Workshop: DIY Photobooks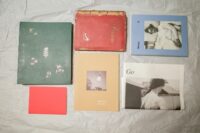 When
30 April 2022
Saturday, 12:30-2:30pm
(AEST)
Venue
546 Dean St, Albury

Mon – Fri, 10am – 5pm
Sat – Sun, 10am – 4pm
Price
$80, bookings required
Join Murray Art Museum Albury (MAMA) for a hands-on workshop that introduces participants to the art of photobooks – a publishing platform for photographers to curate and present photo images.
Photographer Otis Burian Hodge will share inspiring photobook examples by different artists, as well as his own. We will learn different book-binding methods and talk about how to combine different images for a desired 'collective' narrative.
Participants will then make their own DIY book to present a series of printed photos. This workshop is for people with an interest in photography, who wish to explore creative ways of presenting photos as an art object.
Workshop recommended for ages 16+
This workshop is presented in conjunction with the exhibition The Last Jar of Rose Hip Jam by Otis Burian Hodge.
Artist
Otis Burian Hodge (AU)

Born 1997, Sydney, Australia
Lives and works Sydney, Australia

Otis Burian Hodge is a photographic artist and gallery curator based on Gadigal land. His practice involves both digital and analogue photography, with an interest in bookmaking. Hodge explores the challenge of archiving specific feelings, memories and localities around him and translating them to a wider audience – sharing a moment with those who don't share in it. Hodge creates work that aims to be identifiable and relatable, yet pushes the audience to imagine beyond its frame and incorporate their own lived experiences.

Since 2017 Hodge has programmed TCS Windows, a non-commercial gallery hosting monthly shows of photography-based work by emerging artists.