Workshop: Hands-On Photography, 35mm Film and Bookmaking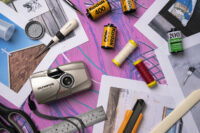 When
15 May 2022 - 22 May 2022
Over two weekends, Kindred Cameras will teach the art of street photography and how to turn your images into a photobook that you will be able to take home with you.
In this workshop you'll learn how to design and bind your own photobook shot on 35mm film. The first day of the workshop will see us traverse the streets of Melbourne CBD capturing street style photos on disposable film cameras. On the second day, we'll transform these images into one-of-a-kind handmade photobooks at the PHOTO 2022 Photobook Market.
You'll walk away from this workshop with an understanding of how to creatively tell a story with your photography as well as a unique photobook that you can share with others.
Age: 14 – 18 years.
Day 1: Saturday 15 May, 1pm, CBD
Meeting place: The Atrium, The Ian Potter Centre: NGV Australia, 111 Flinders St, Melbourne CBD
What to bring: snacks, water, sunscreen, hat and good walking shoes
Day 2: Sunday 22 May, 12pm. Photography Studies College
Meeting place: Photography Studies College (PSC), 37-47 Thistlethwaite St, South Melbourne
What to bring: lunch
Materials:
All materials provided, including disposable cameras, film developing, photographic prints and bookmaking materials
Class size: maximum of 12 students.
Facilitators
Kindred Cameras

Conceived in the midst of the 2021 lockdowns and launched in 2022, Kindred Cameras was created by a small group of photographic practitioners as a way to share their knowledge with the rest of the community. While most photographic education is highly structured and inflexible, Kindred Cameras aims to provide a quality learning environment to those interested in the elements of photography and video – without all the baggage of formal education. Offering a range of classes designed to suit people of all backgrounds, the team behind Kindred Cameras love being able to help their students take their image making to the next level.

Chris Bowes

Chris Bowes is a multidisciplinary artist whose practice has taken on many forms, including documentary photography, experimental print making and interactive installations. He is interested in picking apart the medium of photography and video, often finding ways to manipulate the photographs physical form, and how the meaning of images can shift and change depending on the context they are viewed in. Chris exhibits regularly around Australia, most recently with his solo show Split at Photo Access, and his work is held in several collections, including the Macquarie Group, LACMA and the Beinecke Rare Book and Manuscript Library. In 2014 he published the book Money Talks after collecting bank notes that people had written on while working as a teller. Chris teaches at RMIT, previously ran the educational program at Michaels Cameras, and co-founded Kindred Cameras in 2022.