Paul Mpagi
Sepuya

(US)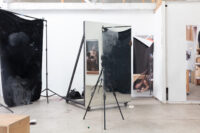 Paul Mpagi Sepuya, Studio (0X5A5038), 2020. Image courtesy of the artist, DOCUMENT, Chicago, and Vielmetter Los Angeles.
Born 1982, San Bernardino, US
Lives and works Los Angeles, US
Paul Mpagi Sepuya is a Los Angeles-based artist working in photography and Associate Professor in Media Arts at UC San Diego. His work is in the collections of the Baltimore Museum of Art, the Getty and Guggenheim Museums, LACMA, MoMA, SFMoMA, the Studio Museum in Harlem, and the Whitney Museum, among others. Recent exhibitions include solos at Document in Chicago and the Bemis in Omaha, a survey of work from 2006-2018 at CAM St. Louis, and a project for the 2019 Whitney Biennial.