Ponch
Hawkes

(AU)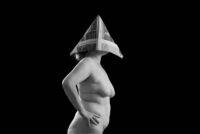 Image: Ponch Hawkes, 500 Strong (ii) (detail), 2019–20. Courtesy the artist.
Born 1946, Melbourne, Australia
Lives and works Melbourne, Australia
Ponch Hawkes is a senior, critically acclaimed Australian artist. Now in her 70's, Ponch's career has been driven by the need to make an impact and drive change – politically, emotionally and artistically. The 500 STONG project brings together all these elements. Creating an exhibition that changes the lives of the courageous participants, educating younger women about body shaming and the joys of ageing sends 'ripples of change' throughout the community. This project is a culmination of 45 years of artistic exploration, that others have mostly not been interested in – older women's bodies and health.