Richmond Kobla
Dido

(GH)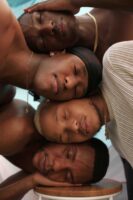 Image: Richmond Kobla Dido, from the series Men Don't Cry, 2021. Courtesy the artist.
Born 1993, Accra, Ghana
Lives and works Sydney, Australia
Richmond Kobla Dido is a photographer and creative director working across many genres that explores and documents black lived experiences.
Heavily  inspired by photographers such as Malick Sadibe, Seydou Keita and more recently Zanele Muholi, Kobla aims  through his work  to be able to inspire his community and open some very important conversations be it in stills or moving images.
His practice as a photographer is all about creating safe spaces for people to tell their stories and to have a visual document that would be a reference for those who are to come,  especially as an African in the diaspora.
He aspires for his photography to positively encourage a connection and understanding between the viewer and the subject.