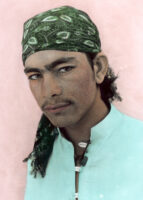 Born 1979, Dublin, Ireland
Lives and works New York, U.S.
Ross McDonnell is a filmmaker and photographer. Ross' early experience of travel and his love of cinema sparked a fascination with image making and storytelling. His work reflects his interest in the open-ended nature of non-fiction and the tensions, inherent in the photographic process, between transience and permanence.
Ross' debut feature film Colony premiered at TIFF and won the IDFA First Feature Award. Since then Ross has continued moving between disciplines as Director, Cinematographer and Producer. In 2021 he won an Emmy Award for his Cinematography on The Trade and was shortlisted for the Prix Pictet in 2019 for his project, Limbs.