Opening reception: Ross McDonnell and Philip Montgomery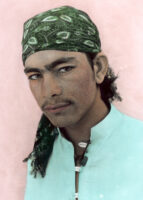 When
30 April 2022
Saturday, 4-6pm
(AEST)
Venue
1 Mater St, Collingwood
Wed – Fri, 12pm – 2pm
Sat, 12pm – 5pm
Price
Free, no bookings required
Le Space welcomes you to join in the vernissage of two celebrated photographers and their respective exhibitions, American Mirror and Lost Boys.
Philip Montgomery's work captures the reality of Americans in crisis. American Mirror is a dramatic chronicle of the United States at a time of profound change, told through his intimate and powerful reporting and a signature black-and-white style.
Lost Boys challenges our preconceptions about Afghanistan and migration. Through the use of techniques passed down over generations, the work originates from hand-tinted silver gelatin fiber prints and oil paints, creating unique portraits of young men from Afghanistan arriving on European shores as asylum seekers.
Artist
Ross McDonnell (IE)

Born 1979, Dublin, Ireland
Lives and works New York, U.S.

Ross McDonnell is a filmmaker and photographer. Ross' early experience of travel and his love of cinema sparked a fascination with image making and storytelling. His work reflects his interest in the open-ended nature of non-fiction and the tensions, inherent in the photographic process, between transience and permanence.

Ross' debut feature film Colony premiered at TIFF and won the IDFA First Feature Award. Since then Ross has continued moving between disciplines as Director, Cinematographer and Producer. In 2021 he won an Emmy Award for his Cinematography on The Trade and was shortlisted for the Prix Pictet in 2019 for his project, Limbs.

Philip Montgomery (MX/US)

Born 1988, California, U.S.
Lives and works New York, U.S.

Philip Montgomery is a photographer whose work chronicles the fractured state of America. He is a contributor to The New York Times Magazine, Vanity Fair, The New Yorker, and Zeit Magazine. He has received numerous awards, including the National Magazine Award for feature photography for his work chronicling the opioid epidemic. His work has been exhibited at the ICP in New York, Foam Museum in Amsterdam, the Annenberg Space for Photography in Los Angeles, Aperture Gallery in New York, Les Rencontres d'Arles in France, and the Deichtorhallen House of Photography in Germany. Montgomery's monograph, American Mirror, will be published by Aperture in Fall 2021.