Talk: Being, Human Being UFO Photography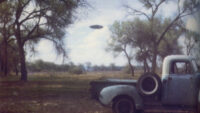 When
30 April 2022
Saturday, 2-3:30pm
(AEST)
Venue
44 Glasshouse Rd, Collingwood
Thu – Sat, 12pm – 5pm
Price
Free, no bookings required
Gertrude is pleased to present a public program to accompany Being, Human Being: UFO Photography as part of PHOTO2022.
Artistic Director Mark Feary will discuss the development of the exhibition as a context for research, belief and curiosity, followed by Dr. Martin Plowman discussing his research on ufologists, culminating in his book 'The UFO Diaries' (Allen & Unwin, 2011).
Speakers
Mark Feary

Mark Feary is the Artistic Director of Gertrude Contemporary, Melbourne. He has worked within the visual art sector for fifteen years in a range of contemporary art centres, universities, museumsand artist-led initiatives, with an emphasis on contemporary art and almost exclusively within the not-for-profit sector. Feary has worked in curatorial and programming roles at Australian Centre for Photography, Sydney; Artspace, Sydney; Tokyo Metropolitan Museum of Photography; Centre for Contemporary Photography, Melbourne; and West Space, Melbourne.

Martin Plowman

Dr. Martin Plowman became interested in UFOs as a child. While he's a non-believer he decided to write his Cultural Studies PhD in the phenomenon of Ufology. When he received his PhD he made national news, including The Age, the SMH, The Australian, The Herald-Sun, MX, The Canberra Times, Channel 10 news, Sunrise, a dozen radio stations all over the country and Irish radio.