Opening reception: 'Queering the Frame', Paul Mpagi Sepuya, and Martine Gutierrez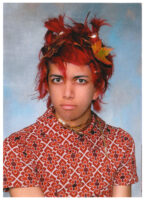 When
30 April 2022
Saturday, 5-8pm
(AEST)
Venue
404 George St, Fitzroy
Wed – Sun, 11am – 5pm
Price
Free, bookings optional
Join us for the opening celebration of three exhibitions curated by Photo Australia; Queering the Frame: Community, Time, Photography and solo exhibitions by Paul Mpagi Sepuya and Martine Gutierrez.
Presenting Australian LGBTQ+ artists across generations, Queering the Frame: Community, Time, Photography considers how the community narrate their histories—how voices are celebrated, how the queer community shift otherwise heteronormative readings of history and information. Please note this exhibition contains images of deceased people.
The use of mirrors has long been a staple of Paul Mpagi Sepuya's practice. In his recent work, the camera almost always records a reflection in the mirror, sometimes including fragments of test prints affixed to its surface, and smudges on the glass, a memory of touch that establishes a boundary between viewer and image. The images in this show demonstrate a range of Sepuya's interconnected interests, zooming out on stages and drop scenes and focusing in on intimate spaces, evoking dark rooms both of photography and queer culture.
The work of American photographer and performance artist Martine Gutierrez subverts conventional ideals of beauty to reveal how deeply sexism, racism, transphobia and other biases are embedded in our culture. Internet Immigrant moves from the chaotic and bombastic to the anthropological, including a large-scale wallpaper designed specifically for the exhibition, and Neo-Indian studio portraits incorporating indigenous textiles of Gutierrez's Mayan heritage.