Sadia
Marium

(BD)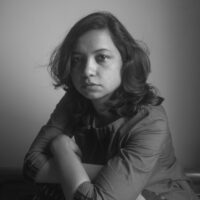 Sadia Marium
Born 1982, Chattogram, Bangladesh
Lives and works Dhaka & Chattogram, Bangladesh
Sadia Marium dreamt of being a filmmaker, worked as a Merchandiser, and at present an independent photographer based in Dhaka & Chattogram. Sadia's practice pollinates the process of creating photographs, books, videos, and alternative printing methods. The question of 'Intrusion' in photography intrigues her the most. Ordinary characters, unremarkable memories, spaces, and objects are the protagonists of her works in tracing the overlap of reality & fiction, private & public. Sadia's interest in geopolitics & border discourse, role of narratives in creating memory are shaping her recent and new works. She is one of the founding members of 'Kaali Collective.