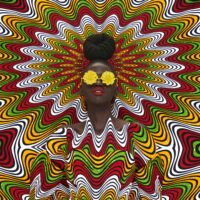 Born 1991, Nairobi, Kenya
Lives and works Nairobi, Kenya
Thandiwe Muriu is a photographer born and raised in Nairobi, Kenya. As a female artist operating in a previously male-dominated field, she is passionate about celebrating and empowering her fellow women.
Thandiwe showcases Africa's unique mix of vibrant cultures, textiles and beauty norms. Through her work she celebrates her African heritage and tackles important issues such as identity and self-perception using the rich colours and vibrancy the continent is so well know for.
Thandiwe Muriu takes you on a colourful journey through her world as a woman living in modern Africa as she reinterprets contemporary African portraiture.