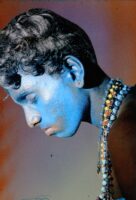 Born 1985, Grenoble, France
Lives and works Marseille, France
Vasantha Yogananthan is an award-winning French artist whose practice addresses the space between documentary and fiction. Drawing inspiration from the imagery associated with The Ramayana and its pervasiveness in everyday Indian life, his 7-book project A Myth of Two Souls combines a wide range of techniques, including color photography, hand-painted photography, collages and video installation. He is the co-founder of the publishing house Chose Commune.