Zanele
Muholi

(ZA)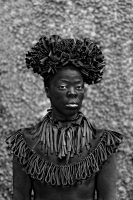 Image: Zanele Muholi, Hlonipha, Cassilhaus, Chapel Hill, North Carolina, 2016. Courtesy Stevenson, Cape Town/ Johannesburg and Yancey Richardson, New York. ©Zanele Muholi.
b. 1972 in Umlazi, Durban and lives in Johannesburg
Prof. Sir Zanele Muholi is a South African visual activist and photographer. For over a decade they have documented black lesbian, gay, bisexual, transgender and intersex people's lives in various townships in South Africa. Responding to the continuing discrimination and violence faced by the LGBTI community, in 2006 Muholi embarked on an ongoing project, Faces and Phases, in which they depict black lesbian and transgender individuals. Muholi's self-proclaimed mission is "to re-write a black queer and trans visual history of South Africa for the world to know of our resistance and existence at the height of hate crimes in SA and beyond." These arresting portraits are part of Muholi's contribution towards a more democratic and representative South African homosexual history. Through this positive imagery, Muholi hopes to offset the stigma and negativity attached to queer identity in African society.
They studied Advanced Photography at the Market Photo Workshop in Newtown, Johannesburg, and in 2009 completed an MFA: Documentary Media at Ryerson University, Toronto. Muholi has won numerous awards including the ICP Infinity Award for Documentary and Photojournalism (2016); Africa'Sout! Courage and Creativity Award (2016); the Outstanding International Alumni Award from Ryerson University (2016); the Fine Prize for an emerging artist at the 2013 Carnegie International; and a Prince Claus Award (2013), among others. Muholi's work has been exhibited at Documenta 13; the South African Pavilion at the 55th Venice Biennale; and the 29th São Paulo Biennale. Muholi was shortlisted for the 2015 Deutsche Börse Photography Prize for their publication Faces and Phases 2006-14 (Steidl/The Walther Collection).