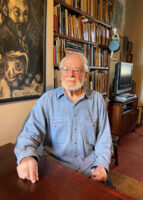 101 Victorians
3.8.22
Inspired by PHOTO 2022 artist Jenny Lewis' One Hundred Years series, presented on Barry Street for PHOTO 2022, Metro Tunnel Creative Program presents 101 Victorians.
With the help of a wonderful bunch of photographers – amateur, hobbyists and professionals – and to celebrate the extraordinary diversity of the Victorian community, the Metro Tunnel Creative Program produced 101 Victorians. Presented online, this photographic series features people at every age from 0 to 100. View the series here.
British artist Jenny Lewis' One Hundred Years capture her local community in Hackney, East London. With an image and a short quote from each of her subjects, Jenny brings to life the joys, adversities, challenges and beauty of her community as they reflect on their lives so far. This series was presented by Photo Australia for PHOTO 2022 but is still available to view on the Metro Tunnel hoardings in Barry St, Parkville.
We were thrilled Jenny was able to visit Melbourne during PHOTO 2022. She created this short video during her stay here.