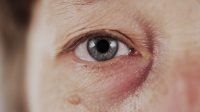 Trailer released for Hoda Afshar's new work Agonistes
10.2.21
Watch the trailer for Hoda Afshar's powerful PHOTO 2021 commission, Agonistes.
Using the medium of photography and film, Agonistes explores the experiences of nine whistleblowers who have spoken out about harm, misconduct and injustices perpetrated in a range of Australian institutions. Whether whistleblowing on matters to do with the military, Secret Intelligence Service, immigration detention, youth detention, or aged and disability care, Afshar's subjects have spoken out for those whose voices were never meant to be heard.
Credits for Agonistes
Director: Hoda Afshar
Cinematographer: James Wright
Editor: James Wright and Hoda Afshar
Researcher: Claire Loughnan
Colourist: Peter Hatzipavlis
Composer: Alexandra Spence
Sound Mix: Duane Morrison
Script editors: Hoda Afshar and Anna Zagala
3D designer: Mark Ruff
Agonistes is commissioned by Photo Australia for PHOTO 2021 and is supported by the City of Melbourne, Mark Henry, and the Victorian Government through Creative Victoria.
Agonistes will be presented at St Pauls Cathedral, Melbourne and Missing Persons from 18 February to 7 March 2021.