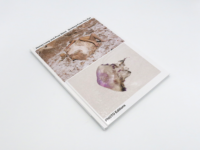 Honey Long & Prue Stent: Drinking From The Eye to launch at Melbourne Art Book Fair 2023
10.5.23
We're excited to announce the launch of Drinking From The Eye – the new PHOTO Editions photobook by artists Honey Long and Prue Stent – at NGV as part of Melbourne Art Book Fair on Saturday 20 May.
Co-published by PHOTO Australia in collaboration with Perimeter Editions, Drinking From The Eye brings together over six years of previous and never before seen works by Honey Long & Prue Stent to create the artists' first photobook.
Drinking From The Eye takes the form of an abstracted visual diary, presenting a combination of constructed photographs and detail shots that emphasise the artists' attention to form, texture and material. Often referencing historical representations of the female subject, Long and Stent distort and fragment their bodies, creating creaturely hybrids in a constant state of becoming and flux.
Join us for the official launch and artist talk at NGV where Honey and Prue will discuss the process behind their first book in conversation with book designer Žiga Testen, editor Justine Ellis (Co-Director, Perimeter Editions), and commissioning editor Elias Redstone (Artistic Director, Photo Australia/PHOTO 2024).
When: Sat 20 May, 2:00pm – 2:45pm
Where: NGV, 180 St Kilda Road, Southbank
Free – no booking required
Visit artbookfair.melbourne for more info
We look forward to seeing you there!
If you can't wait til then, pre-order your copy from Perimeter for $49 AUD.
Drinking From The Eye will also be touring with Perimeter Books to international art book fairs in 2023 including:
May 11-14, Offprint London, UK
May 12-14, ICP Photobook Fest, New York, USA
June 1-2, Semi Permanent, Sydney, Australia
July 13-16, SF Art Book Fair, San Francisco, USA
August 10-13, LA Art Book Fair, Los Angeles, USA
Drinking From The Eye was commissioned by Photo Australia for PHOTO 2024 International Festival of Photography. Generously supported by Jo Horgan and Peter Wetenhall.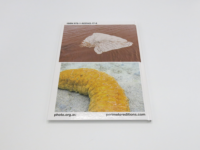 Honey Long and Prue Stent have been working together since 2010 and are currently based in Melbourne. Solo exhibitions have taken place at ARC ONE Gallery, Melbourne (2018), PhotoEspana, Madrid (2018) and Nicola Von Senger, Zurich (2018). Notable group shows they have been in include Eyes on Australia, Pingyao International Photography Festival, China (2019), In Her Words, Horsham Regional Gallery, Melbourne (2019) Future Feminine, Fahey/ Klein Gallery, Los Angeles (2018), London Photo, The Female Lens: 9 Contemporary Photographers, Huxley Parlour Gallery (2018), The Josephine Ulrick and Win Schubert Photography Award Finalist Exhibition, Gold Coast (2018), REVERIE REVELRY: Fashion Through Photography, Ballarat Foto Biennale, Melbourne (2017) and Trash Cans For Hearts and People Have No Soul, Fotofestwal Lodz, Poland (2017). They are currently represented by ARC ONE Gallery, Melbourne.