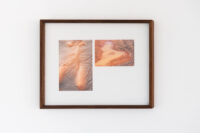 PHOTO Australia unveils new limited-edition print by Honey Long & Prue Stent to support PHOTO 2024
21.6.23
PHOTO Australia continues its series of limited-edition prints with an exclusive new print by acclaimed Melbourne-based duo Honey Long & Prue Stent. Fans of Long & Stent can now own a hand-signed work by the artists at an affordable price.
The print 'Wax Diptych' is a sensory and visceral dual image work taken from Long & Stent's recently launched photobook 'Drinking From The Eye'. The photobook was commissioned by PHOTO Australia for the biennial 2024 International Festival of Photography taking place in Melbourne 1–24 March next year. 'Wax Diptych' is available for an affordable price point for emerging collectors of $350 AU unframed or $650 AU framed in an edition of 150.
"Both of these photos were taken in very different environments which is partly why I think the pairing is so satisfying. Both capture a feeling of merging and of two bodies meeting each other – one being a friend's body and the ocean, and the other being rain and hot earth" says Long.
Over the past 10 years, Long & Stent have developed their signature style of experimental photography-performance interventions in familiar and alien environments. With careers spanning traditional photographic, sculpture, performance, and fashion, Long & Stent are masters of making us feel a certain type of way about having a physical body, how we perceive bodies, and the relentlessly slippery relationship between physicality and nature.
"In the 'Drinking From The Eye' series and the work 'Wax Diptych', the body is also ever-present, but is dissolved within the wider landscape and a web of material relations, so that these creaturely hybrids are created, in constant states of becoming and flux" say Long & Stent.
'Wax Diptych' is part of the PHOTO Australia print series – a unique circular fundraising model developed to support artists and collectors. Each editioned print is drawn from work commissioned by PHOTO Australia, with the selected image donated by the artist to be printed for a limited print sale. Proceeds support PHOTO Australia to commission artists to create new work for future PHOTO Festivals.
"It feels like a huge milestone as it's something we have talked about for years. Our first PHOTO Editions book means a lot, in many ways it's like a process diary that traces our whole practice together. Now releasing the 'Wax Diptych' PHOTO Print is a wonderful opportunity to make our work more accessible and help support future opportunities for artists at PHOTO 2024" says Stent.
Honey Long & Prue Stent's 'Wax Diptych' print is available for a limited time from June 20 – July 18 2023 or until sold out.
$350 AUD unframed or $650 AUD framed.
Purchase at photo.org.au/print-sales
Honey Long & Prue Stent's 'Drinking From The Eye' photo book is available now Perimeter Books $49 AUD.
Purchase at photo.org.au/photo-editions
'Wax Diptych' Print Details
Unframed $350 AUD
Ilford Gold Fiber Gloss 310gsm. Printed by Colour Factory.
Image size: 18.5 x 28.5 cm
Paper size: 35.5 x 45.7 cm
Framed $650 AUD
Hand-stained Victorian ash frame designed by the artists and fabricated by Fini Frames.
Image size: 14 x 21.5 cm, 11.5 x 16.8 cm (left to right).
Paper size: 35.5 x 45.7 cm
Frame size: 37.5 x 47.5 x 3.7 cm
About Honey Long & Prue Stent
Since 2010, multidisciplinary artists, Honey Long and Prue Stent have worked together across photography, performance, installation and sculpture. Spontaneous and playful, their art centres on a fascination with gender and the body, and seeks to undermine notions of the passive female. Interested in the poetics and symbolism which arise from material and bodily processes, feelings of transience, permeability and transmutation permeate much of their work. They employ the body and unconventional materials to distort and fragment the bodily form, often with unexpected outcomes. Dreamy, fluid, saccharine, gritty and fleshy, Long and Stent challenge and captivate audiences with powerful imagery that crosses the subversive and the surreal. They are currently represented by ARC ONE Gallery, Melbourne
About 'Drinking From The Eye'
Drinking From The Eye is the first photobook by Australian artists Honey Long and Prue Stent, and the third in the PHOTO Editions series, co-published by Photo Australia and Perimeter Editions.
Commissioned by Photo Australia for PHOTO 2024 International Festival of Photography, Melbourne, 'Drinking From The Eye' takes the form of an abstracted visual diary, presenting a combination of constructed photographs and detail shots that emphasise the artists' attention to form, texture and material.
Designed by Ziga Testen
Supported by Jo Horgan and Peter Wetenhall
About PHOTO Australia and PHOTO 2024
Presented by Photo Australia in partnership with over 50 cultural, education, industry and government partners, PHOTO 2024 International Festival of Photography will take place in galleries and public spaces across Melbourne and regional Victoria from 1 to 24 March 2024. The Melbourne Award-winning biennial is a celebration of new photography, art and ideas through an ambitious program of artist commissions, exhibitions and events. In a time of ecological, social and political uncertainty, PHOTO 2024 is inviting visionary artists, photographers, curators and academics to imagine the world as it could be, and how current actions and activisms are shaping future realities.