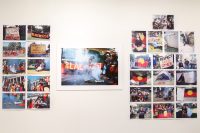 Introducing… Koorie Heritage Trust
18.3.19
The Koorie Heritage Trust – established to promote the ongoing culture and art-making of Aboriginal and Torres Strait Islander people of South Eastern Australia – boasts an impressive collection of over 48,000 historic and contemporary photographs.

We sat down with Kate ten Buuren, Taungurung artist and Assistant Curator at the Trust, to discuss the importance of focusing on Blak* voices and experiences, especially in the digital age where truths surrounding Blak culture are often misconstrued.
Why is photography as a medium important for the Koorie Heritage Trust?
It is important for Aboriginal and Torres Strait Islander people to tell our own stories, capture our own truths, and express ourselves through our own lens. Aboriginal people have been studied, photographed without consent and had our images used in ways that degrade, vilify and remove our agency. Blak photographers are so important because they're taking back that agency, shifting the gaze and coming from a place of pride, not of curiosity or critique. No one can capture our stories and our truths like we can. There's real power in Aboriginal people taking photos of Aboriginal people, a power that can't be emulated.
Why is it important for the Koorie Heritage Trust to participate in PHOTO 2020?
Participating in PHOTO 2020 will mean that people from all across the country will get to engage with some of Victoria's most exciting Indigenous photographers. It is an important opportunity for the public to educate themselves and to support the self-determination of our people by respectfully observing Aboriginal truths, told through our own lenses.
Why is it significant that PHOTO 2020 is taking place in Melbourne?
The city of Melbourne is on Wurundjeri and Boon Wurrung Lands; there's a significant amount of Aboriginal and Torres Strait Islander photographers living on these lands and making work that shares important, and often unacknowledged truths about our peoples.
Why is the relationship between photography and truth important to investigate in the post-internet age?
As First Nations people, our stories and images are obscured constantly because they are being written and shared by people with no right to communicate them. Mistruths about our history and our community continue to hinder the public consciousness and have very serious repercussions on our minds and bodies; the internet provides an opportunity for these to be shared and manipulated further. However, it also provides a platform for content to be easily accessed. When the power and platform are in Blak hands, the noise and lies of others will be softened and eliminated, because the voices of Blak folks who tell the truth, will be the loudest.
What can we expect from the Koorie Heritage Trust during PHOTO 2020?
The Koorie Heritage Trust will exhibit some of Victoria's most exciting multi-disciplinary artists; both established and emerging, and who are staunch in their truth-telling through photography and beyond. Not limited to our gallery space, we are venturing outdoors to engage with a wider audience and hold a stronger presence in the city.
*The term Blak (as opposed to Black with a 'c'), was coined by artist Destiny Deacon in the 1990s and is now used widely by Aboriginal and Torres Strait Islander people to distinguish their experience of Blakness from others. There's no one way to be Blak, no skin tone or physical feature that can determine it, and this term speaks to the nuances that exist within Aboriginal and Torres Strait Islander peoples' unique experience of Blakness.