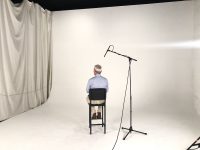 The making of Hoda Afshar's Agonistes
13.2.21
Iranian/Australian artist Hoda Afshar tells us about the process and inspiration for her PHOTO 2021 commission Agonistes, and shares some behind the scenes photos.
Neither an 11-hour time difference, intermittent Zoom connection or thousands of kilometres could hamper Hoda Afshar's passion for her latest project Agonistes—commissioned by Photo Australia for PHOTO 2021.
Using the medium of photography and film, Agonistes explores the experiences of nine whistleblowers who have spoken out about harm, misconduct and injustices perpetrated in a range of Australian institutions. Whether whistleblowing on matters to do with the military, Secret Intelligence Service, immigration detention, youth detention, or aged and disability care, Afshar's subjects have spoken out for those whose voices were never meant to be heard.
"My work is always concerned with visibility, questions around visibility, but with this project I also wanted to acknowledge the differences between that struggle in a western society compared to other works which have looked at the struggle of visibility in other contexts such as refugees on Manus Island."
The premise for Agonistes was initiated when Afshar was working on Manus Island to create her powerful 2018 work Remain in which she collaborated closely with a number of refugees—including journalist and writer Behrooz Boochani— who had been detained on the island for numerous years.
"I remember asking some of the refugees if any of the Australians working on the camps tried to help them by complaining about the conditions in the camp. They said there were a few people who tried to complain or change things, but they were immediately dismissed and sent back to Australia with the threat of two years jail time if they speak about it because they signed a deed of confidentially with the government. I couldn't believe it, I needed to find out how this could be possible in a liberal democratic system."
"I was thinking about this for a while and when PHOTO 2021 invited me to make a work about truth and photography I knew that this was the opportunity to create Agonistes."
Hoda explains that this latest commission is an extension of her previous projects, particularly Remain (2018) and Behold (2015). "It's almost as if each project is born from the previous one."
"With Remain I wanted to bring the character forward because it was about people whose agency and identity had been taken away from them, so it was more about how to highlight their individuality and personality and character. But here with Agonistes there is a hierarchy, the struggle with visibility in the west is not of the same nature. The whistleblowers in the project have access to media and platforms, these people have freedom of speech. And while the voice is there, no one listens or hears because the system prioritises what 'matters'."
Afshar is intent on ensuring that each subject's actions—and the intentions and impacts of their actions—are the focus of the work rather than the individual. "The character is secondary to the action. It's about what they did not who they are."
A consistent narrative that was shared in the interview process is that the subject went to the media, they shared their story, people heard, and the initial action was never spoken about again­—even though the experience has an ongoing impact on the whistleblowers' personal lives. One of the subjects came to a realisation that after all he did to raise awareness of the issue, nothing changed. It was as if no one cared.
Afshar explains that with most of the subjects their stories have been forgotten: no one is talking about the issue, and in the process they lost their families and friends, experienced physical anguish and the trauma continues in silence. Agonistes provides an opportunity and platform to continue to be raise these subjects again, when most have been forgotten about.
Agonistes comprises of nine individual portraits presented outside St. Pauls Cathedral on Swanston Street, with an accompanying 20-minute video work presented opposite at Missing Persons in Nicholas Building.
Embracing new technologies, this project used 3D scanning technology with 110 cameras to replicate a sense of surveillance and control.
"This is my first time turning the lens of the camera internally looking at Australian society and the people impacted by similar policies that I tried to question in Remain. But here I was looking at the struggles of Australian people themselves. Here in the western world the struggles of visibility are a different one from those of the refugees on Manus Island. Here we struggle with too much visibility, here we are being controlled and looked at all the time. The idea of constant surveillance inspired me to use a different form of technology to create the work. Conceptually I found it most relevant to reference the idea of body-scanning and facial recognition tools, which are really the story of our time."
Agonistes is a fearless work delivered by a fearless artist. This is not a work for the aesthetic pleasure of viewers, this is a work that lives in the fractures of uncomfortableness. It will push the audience to question why, in a time where many individuals have more access to platforms and means of exposing truths and injustices than ever before, do we continue to struggle with the visibility of these issues?
"I haven't taken a position on the issues that are presented in this work, but have presented the subjects in a way that is confronting in the harshness of the reality of the situations. The work allows room for people to take from it what they feel, but I hope that people will approach this work expecting to feel uncomfortable, with patience and with a willingness to learn."
Agonistes is commissioned by Photo Australia for PHOTO 2021 and is supported by the City of Melbourne, Mark Henry, and the Victorian Government through Creative Victoria.
Agonistes will be presented at St Pauls Cathedral, Melbourne and Missing Persons from 18 February to 7 March 2021.