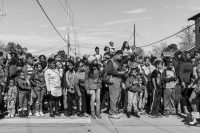 Melbourne streets set for Australia's largest outdoor photographic exhibition
11.1.21
PHOTO 2021 International Festival of Photography and the Metro Tunnel Creative Program have joined forces to present one of the largest outdoor public photographic exhibitions ever seen in Australia. From 18 February 2021, over 500 metres of photographic art will be displayed on construction hoardings across Melbourne, as part of the wider PHOTO 2021 program of exhibitions and events.
The collaboration will present a works by 18 artists from across the world across 16 different artists' projects at seven different locations. Each project responds to the central theme of the 2021 Festival, 'The Truth', with most works being commissioned specifically for PHOTO 2021, or being presented exclusively in Australia for the Festival.
This is the first time the Metro Tunnel Creative Program has invited one festival to curate works across each of its construction sites. PHOTO 2021 celebrates this honour by adorning hundreds of metres of hoarding with some of the world's most inspiring contemporary photography.
Victoria's newest Festival, PHOTO 2021, is a collaboration of over 65 cultural institutions, museums, galleries, universities, government departments and commercial partners bringing together the world's best photographic practitioners to Melbourne to create one of the most significant Festivals of its kind in the Southern Hemisphere. Each Festival focuses on a single theme to provide a platform for diverse voices, views and approaches to be amplified, heard and celebrated through the medium of photography.
PHOTO 2021 Artistic Director, Elias Redstone said:
"PHOTO 2021 provides an opportunity for the best artists from across the world to focus on a single theme, in-depth, from multiple perspectives and for their works to be displayed in unexpected outdoor locations, such as the Metro Tunnel sites, as well as the many galleries, museums and art spaces that Victoria is known for.
By working collaboratively with the entire photographic sector as well as partners such as Metro Tunnel we are able to create a Festival of scale that hasn't been seen in Australia for the photographic community. The calibre of artists we have curated into the Festival will be truly inspiring for audiences and will solidify Victoria's position as a cultural destination." 
A range of contemporary issues are addressed across the PHOTO 2021 x Metro Tunnel Creative Program, including Amanda Williams response to the impact of climate change and urban development on natural habitats and animal life; and the experiences of Victoria's healthcare workers are examined in a collaboration between Phoebe Powell and Kate Disher-Quill. In a time when travel is heavily restricted, audiences will be taken to faraway lands, including imagery from Swiss duo Taiyo Onorato and Nico Krebs epic land journey from Switzerland to Mongolia in a 1987 Toyota Land Cruiser; Malagasy photographer Emmanuelle Andrianjafy's visual exploration of the port city of Dakar; and British photographer George Georgiou's photographs from 24 American cities of people lining the streets to watch parades.
Also included in the project are internationally renowned artists such as Sam Contis (USA), Kenta Cobayashi (Japan), Felicity Hammond (UK), Nico Krijno (South Africa) and Ann Shelton (New Zealand). As well as Amanda Williams, Kate Disher-Quill and Phoebe Powell, the Australian contingent includes Maree Clarke, James Tylor, Lillian O'Neil, Jesse Boyd-Reid and Alan Stewart.
All works will be easily accessible to the public at all hours of the day and collectively form an immersive citywide trail of photography that can be experienced at leisure across the Festival period.
The inaugural PHOTO 2021 International Festival of Photography runs from Thursday 18 February to Sunday 7 March.
To see the full PHOTO 2021 x Metro Tunnel Creative Program click here.