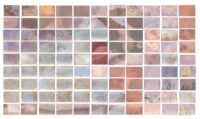 New Photographers announced
13.1.20
We are delighted to announce New Photographers, a new professional development program for the next generation of Australian photographers, in partnership with SEVENTH Gallery.
The New Photographers program supports the advancement of Australian photography and features artists selected from a shortlist of nominees put forward by established practitioners from five of Melbourne's leading art and photography schools. The first edition of New Photographers will feature:
Sam Forsyth-Gray, Photography Studies College, nominated by Hoda Afshar
Bec Martin, Victorian College of the Arts, University of Melbourne, nominated by Sanja Pahoki
Sarah Ujmaia, Monash University, nominated by Tamsen Hopkinson
Sorcha Wilcox, Deakin University, nominated by Patrick Pound
Kat Wilkie, RMIT School of Art, nominated by Rebecca Najdowski
The program aims to expand each artist's engagement with the international photographic community and expose PHOTO 2020 audiences to new developments in contemporary image-making.
Through the program each artist will present new work at a group exhibition at SEVENTH Gallery as part of PHOTO 2020 International Festival of Photography. The exhibition explores the limits and possibilities of contemporary photography by approaching the discipline through different techniques and mediums, such as textile, projection and traditional prints.
"We are committed to supporting artists in the early stages of their career and believe we are providing a valuable platform with New Photographers," says Diego Ramirez, Gallery Manager of SEVENTH Gallery. "This opportunity is a 'holy trinity' for young artists, as it brings together the support of an Artist Run Initiative (ARI), a lecturer and an alternative institution. A graduate requires these basic elements to successfully launch the first phase of their career, where they are expected to prove themselves to the art world. This is the time to be sexy, inventive and dangerous."
"PHOTO 2020 shares SEVENTH Gallery's enthusiasm for supporting emerging photographic practices in Australia and bringing awareness to inventive contemporary photographic practice," says PHOTO 2020 Artistic Director Elias Redstone.
In addition, the New Photographers will also participate in a five-day educational program during PHOTO 2020. The PHOTO 2020 x Magnum Photos Student Intensive, supported by the Victorian Government through Creative Victoria, will include a professional practice Seminar, Portfolio Reviews and an exclusive three-day workshop run by Magnum Photos' international photographers and network of industry experts.