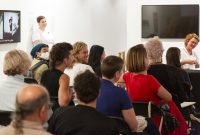 Photobook Weekend Panel Discussion: Making Photobooks
8.6.21
In this panel conversation to launch the PHOTO 2021 Photobook Weekend, accomplished makers, specialist creators and prominent stockists discuss the finer details of making photobooks. Chaired by Heidi Romano, the panel includes Stuart Geddes, Rohan Hutchison, Libby Jeffery and Molly Monro.

This event was recorded at the Centre for Contemporary Photography on 27 February 2021.
PHOTO 2021's Photobook Weekend was supported by Momento Pro and the Goethe-Institut.