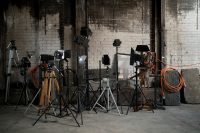 Short film released to launch PHOTO 2020
21.2.19
To celebrate the launch of our digital platforms, we commissioned a short film to introduce PHOTO 2020 and some of our amazing program partners.
"We felt it was important to show the scope and ambition of the festival, and the people and places coming together for PHOTO 2020," says Artistic Director Elias Redstone. "It is a celebration of the incredible cultural scene in Melbourne and Victoria, and shows international and interstate audiences the world-class museums and galleries they can expect to visit as part of the festival in 2020."
The film by Rush Entertainment Group shares interviews with a selection of our program partners, as well as behind the scenes footage at the National Gallery of Victoria, Monash Gallery of Art and Museums Victoria, which holds over 300,000 photographic items in its collection. Some of Australia's most inspiring artists – Maree Clarke, Hoda Afshar, Bill Henson, Atong Atem and Hayley Millar-Baker – also appear, reflecting on the importance of truth in photography.
Thank you to the entire crew and all those involved in the film for their support.
Directors: Rush Entertainment Group and Elias Redstone
Director of Photography and Editor: Rush
Original Music: Moses Truzman
Colorist: Juan Melara
Photographer: Nate Mckay
Graphics: Phil Soliman