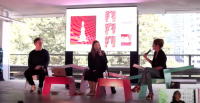 PHOTO LIVE with Brook Andrew and Kate Golding in conversation with Clare Wright
22.2.21
PHOTO LIVE features artists premiering new projects that occupied public spaces during the Festival.

PHOTO LIVE is a series of artist conversations that took place throughout PHOTO 2021 addressing the social and cultural role photography plays in our lives. Curators, academics and practitioners discussed a range of issues from identity, community and belonging to human rights and social justice.
Artists Brook Andrew and Kate Golding are in conversation with Professor Clare Wright OAM, for a timely and powerful discussion around Australia's contested colonial history. Brook is a Wiradjuri/Celtic artist, whose practice critically examines dominant narratives related to global histories of colonialism and modernity. Kate's work interrogates the memorialisation of Captain Cook, challenging the objective truths claimed by monuments erected in his name. Clare is an award-winning historian, author, broadcaster and public commentator. Clare is spearheading a campaign for statue equality, inspired by her research revealing that only 3% of statues in Australia are of real women.
In partnership with MPavilion.