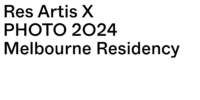 Applications open for new Res Artis x PHOTO 2024 Melbourne Residency
11.5.23
We're excited to announce a residency collaboration with Res Artis: Worldwide Network of Arts Residencies for PHOTO 2024.
The Res Artis x PHOTO 2024 Melbourne Residency is a new 4-week residency based at Res Artis in Collingwood, Melbourne culminating in an exhibition at PHOTO 2024 International Festival of Photography (March 1 – 24).
The successful artist will receive up to $2,500 in support, and access to Melbourne's newest open-access colour darkroom, Wet Lab. Applications close on 30 May 2023. For full details, head to the Residency info page.
The Res Artis x PHOTO 2024 Residency is possible thanks to generous support from Michael Schwarz and David Clouston through the Australian Cultural Fund.