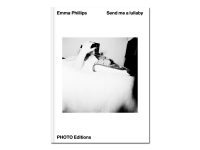 Photo Australia and Perimeter launch PHOTO Editions photobooks
18.1.21
PHOTO Editions is a new collaboration between Photo Australia and Melbourne-based Perimeter Editions providing opportunities for Australian photographers to present their work in photobooks that will be distributed globally. The first photobook in the series—Send me a lullaby by Emma Phillips—will be launched at PHOTO 2021's Photobook Weekend.
The first PHOTO Edition, Send me a lullaby, is a love letter to a city undergoing immense change, created during a period of both urban transformation and global upheaval. Emma Phillips was commissioned by Photo Australia to make a photographic portrait of Melbourne in the lead up to PHOTO 2021 International Festival of Photography. The resulting project is a reflection on connection, navigation and time, and the constantly evolving relationship between people and place.
Elias Redstone, PHOTO 2021 Artistic Director and Commissioning Editor for PHOTO Editions says: "Photobooks have the power to the launch an artist's career, and raise their profile around the world. PHOTO Editions is an exciting new platform to champion some of Australia's most inspiring photographers, and provide opportunities for their work to reach audiences globally. Each photobook will be commissioned with an artist presenting at PHOTO International Festival of Photography, and developed with designer Ziga Testen who has developed a design framework that adapt and evolve as we work with different photographers."
Dan Rule and Justine Ellis, Directors of Perimeter and Editors of Send me a lullaby, say: "We're thrilled by the prospect of this collaboration with Photo Australia. The opportunity to develop and publish a series of books in concert with an international festival of PHOTO's scope and reach will allow these publications an incredibly prominent platform from which to make their way out into the world. Emma Phillips' Send me a lullaby is a remarkable body of work with which to launch the series. At once gritty and sensitive in its rendering of a city and its inhabitants in this most singular of years, Emma's work sits both outside of time and deeply within it."
Phillips' photographs contemplate urban, domestic and psychological space. Weaving into this series are portraits of people Phillips has come across in Melbourne, capturing a living, breathing city as it responds to the fallout of bushfires and a pandemic. These disparate photographs taken across different seasons construct a dialogue between some of the city's component parts—homes, shops, parks, streets—with archaeological objects from beneath the city, offering myriad stories to uncover and tell.
Of the project, Emma Phillips says: "Bookended with rambling, confessional-style text, I consider Send me a lullaby to be an invitation of sorts, a provocation against solitude, a perhaps futile attempt to unravel the uncanny… a confluence of the peripheral and the real, each image building on another and another and so on."
Emma Phillips: Send me a lullaby is available for presale now.
AU$49
48 pages, 28 x 20.8 cm, section-sewn hardcover
Perimeter Editions 062
First Edition of 600
ISBN 978-0-6486801-9-2
Printed by Wilco Art Books, Netherlands
Published by PHOTO Australia and Perimeter Editions
Melbourne, Australia
Commissioning Editor: Elias Redstone
Editors: Justine Ellis and Dan Rule
Design: Ziga Testen
Lithography: Sebastiaan Hanekroot, Colour & Books
Send Me a Lullaby is supported by Hillvale