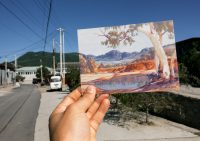 PHOTO LIVE: Dean Cross
29.9.21
Dean Cross (AU) in conversation with Mark Sealy, Director, Autograph (UK).
Photo Australia, Melbourne and Autograph, London are collaborating to present an international season of PHOTO LIVE talks. The ten free online conversations between artists, photographers and curators from Australia and the UK will explore ideas of identity and belonging in the context of human rights, representation, and social justice. This program highlights the importance of centring black, Indigenous, feminist, queer and other marginalised voices and storytelling in photography.
Artist Dean Cross (AU) was in conversation with Mark Sealy, Director, Autograph (UK) on September 29, 2021. Watch the recording below.
ABOUT DEAN CROSS
Dean Cross was born and raised on Ngunnawal/Ngambri Country and is of Worimi descent. He is a trans-disciplinary artist primarily working across installation, sculpture and photography. His career began in contemporary dance, performing and choreographing nationally and internationally for over a decade with Australia's leading dance companies. Following that Dean re-trained as a visual artist, gaining his Bachelor's Degree from Sydney College of the Arts, and his First Class Honours from the ANU School of Art and Design. Dean's work has been collected extensively and is held in significant public and private collections including the National Gallery of Victoria, The Art Gallery of South Australia, The Queensland University of technology Art Museum, and the Canberra Museum and Gallery.Dean is represented by Yavuz Gallery Sydney & Singapore.
ABOUT MARK SEALY
Mark was appointed Director of Autograph in 1991. He was awarded the Hood Medal for services to photography in 2007 by the Royal Photographic Society, and in January 2013 he was awarded an MBE for services to photography. He completed a PhD at Durham University, where his research focused on photography and cultural violence. He has curated several major exhibitions, and his publications include Different (Phaidon 2001) with Professor Stuart Hall.
This program is part of the UK/Australia Season 2021-22—a collaboration between the British Council and the Australian Government's Department of Foreign Affairs and Trade, under the patronage of Her Majesty the Queen. The theme of the Season is 'Who Are We Now?' and will reflect on the shared history, current relationship and imagine the future of the two nations.