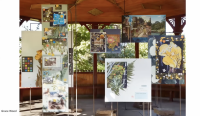 PHOTO LIVE: Luke Parker, Grace Wood, Emmaline Zanelli
19.2.21
PHOTO LIVE features artists premiering new projects that occupied public spaces during the Festival.
PHOTO LIVE is a series of artist conversations that took place throughout PHOTO 2021 addressing the social and cultural role photography plays in our lives. Curators, academics and practitioners discussed a range of issues from identity, community and belonging to human rights and social justice.
Isobel Parker Philip; Senior Curator, Contemporary Art at the Art Gallery of New South Wales, joins artists Luke Parker, Grace Wood and Emmaline Zanelli to discuss the site responsive group exhibition 'Garden Variety: Photography, Politics and the Picturesque', taking place at the Royal Botanic Gardens Melbourne.
In partnership with MPavilion.