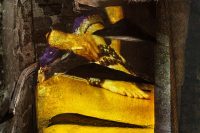 PHOTO LIVE: Mohini Chandra
13.10.21
Artist Mohini Chandra (UK) in conversation with curator Shivanjani Lal (AU).
Photo Australia, Melbourne and Autograph, London are collaborating to present an international season of PHOTO LIVE talks. The ten free online conversations between artists, photographers and curators from Australia and the UK will explore ideas of identity and belonging in the context of human rights, representation, and social justice. This program highlights the importance of centring black, Indigenous, feminist, queer and other marginalised voices and storytelling in photography.
Artist Mohini Chandra (UK) was in conversation about their practice with Independent Curator, Shivanjani Lal (AU) on 13 October, 2021. Watch the recording below.
ABOUT MOHINI CHANDRA
Mohini Chandra (b. 1964, Canvey Island, UK) explores articulations of identity in globalised spaces, and the role of photography in relation to memory and migration. Her research-led visual arts practice is fuelled by a sustained interest in photographic histories and the processes of visual culture within colonial, anthropological and ethnographic discourses. Chandra's artworks have been exhibited globally, including at Bluecoat Gallery, Liverpool; Whitechapel Art Gallery, London; Photo Kathmandu, Centre for Contemporary Photography, Melbourne; Queens Museum of Art, New York; the First Johannesburg Biennale (1995); Focus Festival of Photography in Mumbai (2017); the Third Oceanic Performance Biennale in Auckland (2017); and Houston FotoFest Biennial (2018). Her works are held in the Arts Council Collection (UK), among other public and private collections.
ABOUT Shivanjani Lal
Shivanjani Lal is a Fijian-Australian artist and curator. She is tied to a long history of familial movement; her work uses personal grief to account for ancestral loss and healing. A fundamental concern is how art develops and represents culture as it transitions between contexts, while also probing the experiences of womxn in these situations of flux. Working across mediums to explore Indenture and migratory histories from the Indian and Pacific Oceans. Lal was the recipient of the 2019 Create New South Wales Visual Arts Emerging Fellowship, was a 2020 Studio artist at Parramatta Artists Studios and a recent graduate of the Goldsmiths Masters in Artists Film and Moving Image.
This talk takes place as part of the Autograph exhibition Care | Contagion | Community — Self & Other (23 September 2021 – 12 February 2022) and in the lead up to PHOTO 2022 International Festival of Photography (29 April – 22 May 2022).
This program is part of the UK/Australia Season 2021-22—a collaboration between the British Council and the Australian Government's Department of Foreign Affairs and Trade, under the patronage of Her Majesty the Queen. The theme of the Season is 'Who Are We Now?' and will reflect on the shared history, current relationship and imagine the future of the two nations.