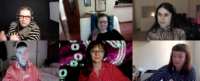 PHOTO LIVE with QueerTech.io and Rosa Menkman
30.7.20
On Thursday 30 July Melbourne based collective QueerTech.io and Dutch artist Rosa Menkman were in conversation about the 'Black Box' of digital making and racial bias in the development of technology.
QueerTech.io is a collective of Melbourne based queer-identifying new media artists engaged in exploring notions of #queertech creative practices.  Since 2017, they have presented more than 60 screen-based digital media artworks from around the globe at Testing Grounds, RMIT Spare Room Gallery, ACMI, Melbourne Museum & the Brisbane Powerhouse.  QueerTech.io is a passion project run by Xanthe Dobbie, Travis Cox and Alison Bennett. For The Black Box Experiment, they are joined by Megan Beckwith and J. Rosenbaum.
Rosa Menkman is a Dutch artist and researcher whose work focuses on noise artefacts that result from accidents in both analogue and digital media (such as glitch and encoding and feedback artefacts).
These artefacts facilitate an important insight into the otherwise obscure alchemy of standardisation via resolutions,  a process that generally imposes efficiency, order and functionality on our technologies. It does not just involve the creation of protocols and solutions, but also entails the obfuscation of compromises and the black-boxing of alternative possibilities, which are as a result in danger of staying forever unseen or even forgotten.
Through her research, which is both practice based and theoretical, she uncovers these anti-utopic, lost and unseen or simply "too good to be implemented" resolutions – to produce new ways to use and perceive through our technologies.