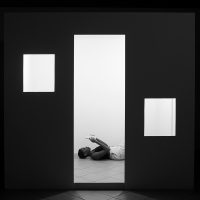 PHOTO LIVE: Silvia Rosi
29.9.21
Silvia Rosi (UK) in conversation with Pippa Milne, Senior Curator, Monash Gallery of Art (AU).
Photo Australia, Melbourne and Autograph, London are collaborating to present an international season of PHOTO LIVE talks. The ten free online conversations between artists, photographers and curators from Australia and the UK will explore ideas of identity and belonging in the context of human rights, representation, and social justice. This program highlights the importance of centring black, Indigenous, feminist, queer and other marginalised voices and storytelling in photography.
Artist Silvia Rosi (UK) was in conversation with Pippa Milne, Senior Curator, Monash Gallery of Art (AU) on September 29, 2021.
ABOUT SILVIA ROSI
Silvia Rosi (b. 1992, Scandiano, Italy) works with photography, text and moving image to explore ideas of memory, migration and diaspora. Inspired by West African studio photography, Rosi's practice explores personal history through self-portraiture, drawing on her Togolese heritage and family traditions, especially matrilineality, and women's labour. She was awarded the Jerwood/Photoworks 2020 Award, and in 2021 exhibited as part of the digital billboard campaign Portrait of Britain and CIRCA's 'Past / Present / Future' at Piccadilly Circus organised in partnership with the Serpentine Gallery, London; her work was also shown at Getxo International Image Festival, Basque Country; Landskrona Foto; Athens Photo Festival; and the National Portrait Gallery, London.
ABOUT PIPPA MILNE
Pippa Milne is Senior Curator at Monash Gallery of Art and has previously held curatorial positions at Queensland Art Gallery | Gallery of Modern Art, Brisbane and Centre for Contemporary Photography, Melbourne. Recent exhibitions include Bill Henson: the light fades but the gods remain (2019), Robin Boyd, a portrait of an Australian house (2019), and An Unorthodox Flow of Images (2017).
This talk takes place as part of the Autograph exhibition Care | Contagion | Community — Self & Other (23 September 2021 – 12 February 2022) and in the lead up to PHOTO 2022 International Festival of Photography (29 April – 22 May 2022).
This program is part of the UK/Australia Season 2021-22—a collaboration between the British Council and the Australian Government's Department of Foreign Affairs and Trade, under the patronage of Her Majesty the Queen. The theme of the Season is 'Who Are We Now?' and will reflect on the shared history, current relationship and imagine the future of the two nations.