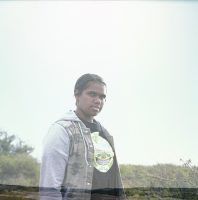 PHOTO LIVE: Sonal Kantaria
6.10.21
Sonal Kantaria (UK) in conversation about their practice with artist and educator, Torika Bolatagici (AU).
Photo Australia, Melbourne and Autograph, London are collaborating to present an international season of PHOTO LIVE talks. The ten free online conversations between artists, photographers and curators from Australia and the UK will explore ideas of identity and belonging in the context of human rights, representation, and social justice. This program highlights the importance of centring black, Indigenous, feminist, queer and other marginalised voices and storytelling in photography.
Artist Sonal Kantaria (UK) was in conversation about their practice with artist and educator, Torika Bolatagici on Wednesday 6 October, 2021. Watch the recording below.

ABOUT SONAL KANTARIA
Sonal Kantaria is a British Indian visual artist whose practice explores themes of movement, settlement, representation and cultural identity. Her interdisciplinary research-led practice is concerned with history, trauma and memory, investigating different forms of resistance through photography, video and text. Her works have been included in exhibitions at the Magenta Foundation, Toronto; Delhi Photo Festival; Perth Centre for Photography; IKON Gallery, Birmingham; and Whitechapel Gallery, London. Her works are held in the Wesfarmers Art Collection (Australia) and the Parliament Art Collection (UK). She is represented by Finkelstein Gallery (Australia).
ABOUT TORIKA BOLATAGICI
Torika Bolatagici is a Fijian-Australian artist and educator who produces multidisciplinary projects centering the counter-narrative of marginalised histories and knowledges through curatorial collaboration, photography, video, installation and publication. Her research investigates the tensions and intersections between gender, embodied knowledge, commodification, migration and globalisation. Torika's work has been exhibited in San Francisco, New York, Miami, Taiwan, Mexico City, Yogyakarta and throughout Aotearoa New Zealand and Australia. She is Course Director and Senior Lecturer in Photography at Deakin University (Melbourne).
This talk takes place as part of the Autograph exhibition Care | Contagion | Community — Self & Other (23 September 2021 – 12 February 2022) and in the lead up to PHOTO 2022 International Festival of Photography (29 April – 22 May 2022).
This program is part of the UK/Australia Season 2021-22—a collaboration between the British Council and the Australian Government's Department of Foreign Affairs and Trade, under the patronage of Her Majesty the Queen. The theme of the Season is 'Who Are We Now?' and will reflect on the shared history, current relationship and imagine the future of the two nations.