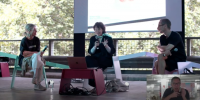 PHOTO LIVE with Danica Chappell and Eliza Hutchison
25.2.21
PHOTO LIVE features artists premiering new projects that occupied public spaces during the Festival.
PHOTO LIVE is a series of artist conversations that took place throughout PHOTO 2021 addressing the social and cultural role photography plays in our lives. Curators, academics and practitioners discussed a range of issues from identity, community and belonging to human rights and social justice.
PHOTO 2021 Artistic Director Elias Redstone and artists Danica Chappell and Eliza Hutchinson discuss their commissioned work for the Festival. These artists blend the personal and the public in experimental and abstracted ways. In Eliza's work, intimate family moments are intertwined with photojournalistic imagery made as a Photographer in Residence at the Parliament of Victoria. Danica creates photographs from slow, thoughtful exchanges between matter and process in her darkroom studio. Gestural, bodily movements create private performances as the artist's hand constructs geometric expressions and slippages of form. Modes of communication, ritual and resistance are merged in these artist's work.
In partnership with MPavilion.