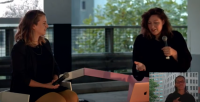 PHOTO LIVE with Laura Delany and Amanda Williams
22.2.21
PHOTO LIVE features artists premiering new projects that occupied public spaces during the Festival.
PHOTO LIVE is a series of artist conversations that took place throughout PHOTO 2021 addressing the social and cultural role photography plays in our lives. Curators, academics and practitioners discussed a range of issues from identity, community and belonging to human rights and social justice.
PHOTO 2021 Producer Brendan McCleary is in conversation with artists Laura Delaney and Amanda Williams as they discuss their large-scale public site interventions premiering at the Festival. Both artist's work references historical modes and processes of photography, and examine the merging of built and natural environments. The artists are interested in human intervention of ecological sites and the replication of nature in architecture. They find inspiration through archival documentation and the associated veiled histories created.
In partnership with MPavilion.