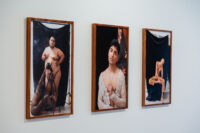 PHOTO Spaces – Fini Frames
3.11.22
A look at PHOTO 2022's Framing Partner, Fini Frames
Framing for many of Australia's premier art galleries, festivals and exhibitions—including PHOTO 2022—happens in an unassuming Abbotsford backstreet. Fini Frames has over four decades of experience. Their reputation sees them work with artists, collectors, and galleries all over the country, framing everything from family photos to globally-significant works of art at the National Gallery of Australia.
But the owner and operator of Fini never envisaged being a framer.
"God no," says Chris Pennings. "Does anybody?"
In 2001, Chris was an arts graduate working bar jobs. He wandered into Fini's Prahran workshop thinking it was an art gallery, and asked owner John Pandolfini for a job. "I just wanted to get out of hospo. I said I was happy to sweep floors, do anything," says Chris. "He said come back next week. I ended up sanding back frames, getting them ready to put together."
He soon realised how ubiquitous—and how important—frames are. "Walk into any room, anywhere, and you'll see frames on the wall," says Chris.
John Pandolfini opened the business in 1980. When he retired in 2008, Chris and his brother Jason bought the business and, two decades on, the brothers have grown Fini Frames into a national institution. Working with Photo Australia is an extension of the years of work Chris has done with countless exhibitions and festivals, and as the official framers to National Gallery of Victoria, National Gallery of Australia, and Museums Victoria.
Fifteen staff work here at Fini's Abbotford base, including Fini's digital offshoot Format Framing (upload an image from your phone and have a framed print arrive by post). It's an open, accommodating space, lined with piles of timber in varying states of readiness. The roller door is always open. "We like it open and inviting," says Chris. Upstairs there's a large consultation space, where he meets artists and clients amid plenty of bench space and the perpetual whir of industrial printers running off commissioned prints. The workshops are visible through wide windows.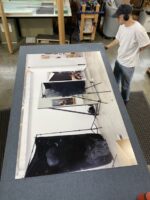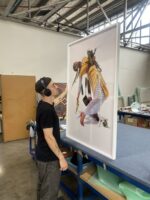 The process is broadly similar across all framers—they're cutting down timber, staining it, and sanding it. But Fini do it well. Fini don't buy anything prefabricated, and work exclusively in Victorian Ash and Tasmanian Oak (there's a subtle colour difference). Everything is custom made here in Abbotsford. Chris shows me the fine detailing on a work-in-progress—the join, sanded back to invisibility.
A lot of Fini's national work stems from the framing system they've developed over many years in consultation with the NGA. Working closely with the gallery's curators and conservationists, Fini's system means frames can be custom-made in Abbotsford and shipped to Canberra, where the NGA team can install the work into the frame, and re-use them as needed. The ability to do things remotely is a big advantage. There's no need for shipping valuable artworks around the country, or the world.
But with every job there are still curveballs. "People will come in with odd requests," Chris says. There's an irregularly-shaped cross stitch on the table, from an artist Fini has worked with before. "How are we going to do that? We don't know yet. And how do you frame a bark painting? Or an engraved ping-pong ball?"
Another example: for PHOTO 2022 Chris worked hands-on with Mohamed Bourouissa's two shows Periphériques and Shoplifters, printing the pieces here in Abbotsford to avoid international shipping and following the artist's colour referencing and instructions as closely as possible. Though they couldn't source French Oak, so the work got an Australian twist.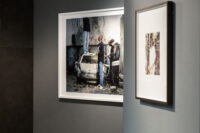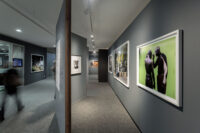 Consulting with collectors, artists and galleries is a big part of the job. Often, Chris' job in a consultation is to ensure their work is invisible.
"There's an archival, conservatorship angle to framing," says Chris. "A good picture frame should make sure the work is displayed in a safe, archival manner, and it should sit back in the mix." You wouldn't look at a Roy Lichtenstein at the NGA, for example, or the 1,620-panel Sidney Nolan installation 'Snake' at Mona (both Fini jobs), and comment on the frame.
"Some people will come with a clear view of what they want, but we make sure it's right," says Chris. "Often people will come in with the idea that they want the frame to match the couch they just bought. But I always say it's really important to frame the work, not the couch. You want to complement the artwork as much as possible."
But the craft does evolve in small ways. "You do notice fashions change," says Chris. He says they also frequently decline jobs if they're concerned it will compromise the work. "People come in with canvases, and we say the artist has painted the sides, for example—this shouldn't be framed. Last week someone brought in a Brett Whiteley print. It was in a beautiful 80s silver aluminium frame that really suited the work. We said we can reframe this if you like, but take it home and think about it first. He hasn't come back."
Chris' understanding that the work needs to breathe comes from his own background as an artist. He studied fine art, specialising in printmaking and graphic design. Though he does exhibit, he's never wanted to make it a career.
But without knowing it, you'll see his work in every major art gallery in the country.