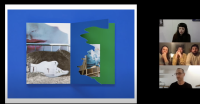 Photobook weekend: Felicity Hammond and Sara, Peter, & Tobias
27.2.21
PHOTO 2021's Photobook Weekend celebrated the role of photobooks in contemporary photographic practice.
As part of the PHOTO 2021 Photobook weekend, Danish collective Sara, Peter & Tobias and British artist Felicity Hammond join PHOTO 2021 Artistic Director Elias Redstone, for an exclusive online conversation about their book-making practices to launch the Photobook Weekend.
Supported by Momento Pro and the Goethe Institute.