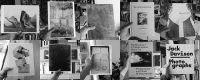 Ten Photobooks Everyone Should Know About
19.8.19
To coincide with the PHOTO 2020 x Perimeter International Photobook Prize we invited the Co-Directors of Perimeter, Dan Rule and Justine Ellis, to select ten of their favourite photobooks from the last decade that have contributed to re-evaluating the medium.

According to Dan and Justine, a good photobook shows "a sensitivity to content, but also a willingness and courage to push and offer new possibilities for that content. The form of the book needs to converse with the content, rather than simply attempt to reproduce it." Covering subjects that range from war monuments in the former Yugoslavia to cloud formations above Mount Fuji, these photobooks published between 2010 and 2019 are a perfect introduction to the art form.
Do you have a good idea for a photobook? Enter the PHOTO 2020 x Perimeter International Photography Prize and you could have your photobook published by Perimeter and launched at PHOTO 2020.
Jan Kempenaers – Spomenik (Roma Publications, 2010)
Jan Kempenaers has been photographing urban and natural landscapes – with a particular interest in socialist monuments – since the mid-1980s. He lives and works in Antwerp.
"One of the most iconic, influential and genuinely compelling typological series in recent decades, Spomenik is Belgian photographer Jan Kempenaers' rendering of the Tito-commissioned war monuments that litter the former Yugoslavia. It makes for elegiac coda to epic gestures and failures of modernism and conflict."
Christian Patterson – Redheaded Peckerwood (MACK, 2011)
Based in New York, Christian Patterson creates work that has been described as novelistic, subjective documentary of the historical past, and often deals with themes of the archive, authorship, memory, place and time.
"An incredibly influential book in helping reroute our thinking around the relationship between documentary and fiction. Visually experimental, structurally dynamic and thematically chilling all at once."
Aglaia Konrad – Carrara (Roma Publications, 2011)
Austrian photographer Aglaia Konrad has developed a distinct practice since the 1970s that documents the rapidly advancing process of global urbanisation.
"A book that often flies under the radar, Austrian photographer Aglaia Konrad's Carrara evidences design's crucial role in photobook syntax. Here, Konrad's epic landscapes and details of Carrara's famed marble mines collapse and fold back onto one another, becoming something more akin to an abstracted tone. "
Takashi Homma – In Our Nature (Super Labo, 2012)
Takashi Homma is a Japanese artist known for his photography of Tokyo and its suburbs, as well as portraits of their inhabitants.
"A wonderfully modest project from the contemporary Japanese master, this humble book ponders the relationship between nature, consciousness and photography in the simplest of sequences. Homma shows that not every great book needs bulk to succeed."
Louis Porter – The Anatomy of Business (Twenty Shelves, 2012)
Louis Porter's practice combines social commentary with an interest in the archive and public space.
"The once Melbourne-based British photographer's beautifully flimsy newsprint publication is all wit, intelligence and humour. Juxtaposing  archival images with his own snaps, The Anatomy of Business is a deadpan look at the aesthetics, textures and spatiality of modern business."
Geert Goiris – Lying Awake (Roma Publications, 2013)
Geert Goiris is best known for his surreal images of distant landscapes and idiosyncratic architecture. He lives and works in Antwerp.
"A selection from the long span of the Belgian photographer's career, Lying Awake is a telling articulation of Goiris' worlds made strange. Here, landscapes operate as if eerie still-lives, their gently surrealist, dreamlike qualities belying their photographic accuracy."
Awoiska van der Molen – Sequester (Fw:Books, 2014)
The work of Amsterdam-based photographer Awoiska van der Molen develops from a desire to comprehend the essence of the isolated world she photographs. She spends long periods of time in solitude in remote landscapes to slowly uncover the identity of the place.
"Looming out of the darkness, the forested volcanic landscapes that define Awoiska van der Molen's Sequester are abstract, dreamlike and oddly accurate in the same breath. While this series – and its meticulous rendering in book form – seems to capture a kind of undefined, non-place, our experience of it is palpable and almost visceral."
Alina Schmuch – Script of Demolition (Spector Books, 2014)
German artist Alina Schmuch's work investigates the interaction and complex relationship between image media and reality.
"Script of Demolition sees young German photographer Alina Schmuch wrangle the vast, non-aesthetic archive of a family business of explosive demolitioners. The mere seconds between ignition and destruction are elevated to a poetic permanence here; we meticulously pore over grids of images – their sequences and cadences – as towers crumble and fall."
Helmut Völter – The Movement of Clouds around Mt Fuji: Photographed and Filmed by Masanao Abe (Spector Books, 2016)
Helmut Völter is a graphic designer and artist from Berlin. In his work, he combines research with the making of books and exhibitions that explore the role of photographic images within history, media, art and science.
"Drawing upon the archive of late Japanese physicist and amateur photographer Masanao Abe, this epic tome includes an extended typology of meticulous large-format still images and moving image stills made at Abe's observatory overlooking Mount Fuji between 1926 and 1941. Day after day, Abe would return to his observatory and train his lens on the skies surrounding this most mythical of peaks – page after page, we're left to acknowledge his efforts and his sensitivities."
Jack Davison – Photographs (Loose Joints, 2019)

Jack Davison is a British photographer that shoots for a range of publications including The New York Times Magazine and British Vogue. This book spans most of his career as a photographer, starting in 2007 when he was 17.
"It's hard to articulate why Jack Davison's debut book is as good as it is. At a glance, this is a series of almost divergent, seemingly unrelated images. But with time, this book's formal, thematic and pictorial and poetics take hold. Davison skirts visual seduction, grit and surrealism in the most effortless and timeless of ways. These images, quite simply, speak for themselves."
Photos courtesy of Perimeter.