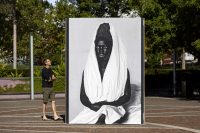 Some PHOTO 2021 Installations Extended
6.3.21
We are so proud of what we have been able to present this year and we want to give you every opportunity to see as many of the works in our festival as possible. With the support of our partners we have managed to extend the below installations.
Open until 14 March 2021
Argyle Square — Zanele Muholi, Somnyama Ngonyama + Faces and Phases
Argyle Square — Broomberg and Chanarin, Spirit is a bone
Argyle Square — Maija Taimi, One of Them Is a Human
St.Pauls Cathedral, Hoda Afshar, Agonistes (outdoor work only, please note the video work that accompanies this in Missing Persons will close on Sunday 7 March)
Parliament of Victoria — Eliza Hutchison, Just wanted you to know
Gordon Reserve — Kate Golding, Near this Spot
99 Spring Street — Laura Delaney, The Rise and Fall
Windsor Place — Hienrich Holtgreve, The internet is a place
Sofitel Melbourne on Collins, Sara Cwynar, Rubens
Collins Place (Flinders Lane) — Patrick Waterhouse and the Warlukurlangu Art Centre, Restricted Images
State Library Victoria — Hayley Millar-Baker, I Will Survive
michaels billboard (above 263-269 Elizabeth Street, Melbourne) — Silin Liu, I'm Everywhere
Many of the works on the Metro Tunnel hoardings will remain on display for several weeks or months after the festival.
Please also see our Program page for galleries whose PHOTO 2021 exhibitions will remain open after the Festival closes.