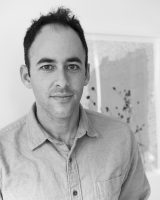 Q&A with David Rothenberg
16.12.20
We spoke with the winner of the PHOTO 2021 x Perimeter International Photography Prize about his project, Roosevelt Station.
Hello David, please start by telling us something about yourself that is not in your bio.
I photograph subjects that are intimately connected to my immediate surroundings, whether it be near my home in Queens, New York or when visiting my hometown in California. I teach photography at the college level and I'm the father of two young boys. Both my teaching and my sons have influenced and informed my photography.
Congratulations on winning the Perimeter x PHOTO 2021 International Photobook Prize! Tell us about your project, Roosevelt Station.
Roosevelt Station is a series of candid photographs from 2019 to early 2020 of people illuminated by the cathedral-like light of the Roosevelt Avenue-74th Street subway station in Jackson Heights, Queens. The photographs show commuters, airport-bound travellers, panhandlers, missionaries and others as they pass through the station during the morning rush hour, suspended in the glowing magenta, orange and green tinted light beaming from Night Passage, a public art installation of transom windows by the artist Tom Patti. The subjects in the photographs, mostly engaged in mundane daily routines, are made theatrical by the otherworldly light that falls during the morning hours.
What inspired this project?
The project began as a bit of procrastination from my morning commute. I started photographing the station for a few spare minutes at a time before heading into a miserably crowded rush-hour subway ride into Manhattan to teach. On sunny mornings, the station was saturated with colourful light from its tinted windows, and I became fixated with the uncanny and theatrical qualities of the resulting images. I've long been fascinated by photographs of candid scenes where there is an underlying tension between what is present and a resulting image that has the appearance of it being staged or constructed.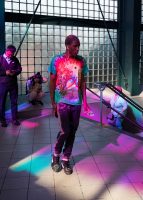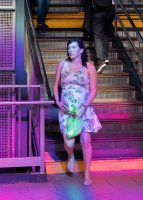 Can you tell us about the process of making this work?
I am drawn toward photographing locations for an extended period of time, frequently returning to the same streets, and sites. In a way, this exercise allows me to become more attuned to my surroundings and observe details that I might have not initially noticed.
What do you hope audiences take from your work?
It's important to me that my work describes a strong sense of place in which ordinary and mundane subjects might reveal something extraordinary. The camera provides me a wonderful excuse to examine and indulge in the trivial. I want my photographs to encourage viewers to examine their own surroundings and see new things.
Why is it important for you to present Roosevelt Station as a photobook?
The formal structure of the photobook felt particularly well-suited for conveying an experience of the station's architecture, and the way in which the people I photographed moved through that space. Unlike an exhibition, the photobook allows for viewers to have a prolonged engagement with images—to repeatedly revisit the work—and encounter previously unnoticed details.