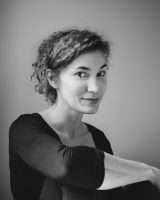 Q&A with Maija Tammi
23.12.20
Finnish artist Maija Tammi tells us about photographing androids challenges traditional ideas of portraiture, and what people think of as The Truth.
What will you be exhibiting at PHOTO 2021?
I will be exhibiting One of Them Is a Human which is a conceptual work of only four photographs; three of them portraying androids (human looking robots) and the fourth (maybe) one human.
What inspired this project?
I think it is time for me to admit that I am more or less obsessed with the borders of life and death, or rather mortality and immortality. All my works oscillate with these themes.
How does it relate to the theme for PHOTO 2021: 'The Truth'?
For centuries, people have been trying to interpret the inner truths of the subjects in portraits, and these android portraits, I assume, will challenge this traditional view of portraiture.
Can you tell us about the process of making this work?
I somehow thought I would be immune to the uncanny valley effect* when meeting the androids. But being left alone with one of the androids for a short while I did start nervously thinking what should I answer if the android were to start talking to me.
* The uncanny valley is a concept first introduced in the 1970s by Masahiro Mori, then a professor at the Tokyo Institute of Technology. Mori coined the term 'uncanny valley' to describe his observation that as robots appear more humanlike, they become more appealing. But only up to a point—then we find them disturbing.
What do you hope audiences take from your work?
I hope people would give the work some thought beyond the task of trying to recognise which one maybe is a human.
Which other artists or exhibitions are you looking forward to seeing at PHOTO 2021?
And finally, what advice would you give to your 15 year old self?
If I remember correctly (human memory being very erroneous), I was not very good at receiving advice as a teenager, so I wouldn't bother.