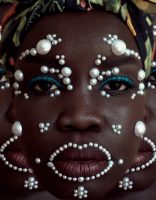 Q&A with Atong Atem
7.5.20
South Sudanese / Australian artist Atong Atem has been commissioned to create new work for Museums Victoria that will be presented at PHOTO 2021. Here she shares her interest in ethnographic photography, how the internet is a safe space for her to make and share work, and failing can be an incredible tool!
Why did you start working with photography?
I began photography while studying fine art at RMIT. I was initially painting and working with textiles. Through one of my art history classes, I became interested in ethnographic photography and the depictions of black people in European historical documentation – as well as the first time black people began photographing themselves. I eventually made photographic works that I felt would align with that turning point in history and have been predominantly working with photography since then.
What is your motivation for making art? How has your practice changed over time?
I initially made art because I felt that I needed to be heard and because I wanted to respond to my world. I felt very strongly, and still do, about political and cultural ideas around me, and my art practice existed as a platform to "do something" about things that I felt needed to be challenged or that challenged me.
My work still exists on an axis of politics and culture but I'm less motivated to respond for the sake of it. I think my work has become quieter and more personal, and I'm learning the power and joy that comes from speaking intimately.
How do ideas relating to 'The Truth' factor into your practice?
I'm interested in truth as a concept, whether in the details of my family history or masked makeup in my self portraits – there's always the question of truth and honesty. I think all photographic works are inherently about truth and manipulation, regardless of how little or how much editing is in the final image. I'm interested in how a framed, printed image can be made to present both familiarity and fantasy. In regards to truth, that's the main direction my practice is going in at the moment.
In this post-internet age, how do you see the viewer in relation to your artwork?
I've always engaged with the internet safe space. I've really found that platforms like instagram have encouraged me to just make for the sake of making and to showcase works and ideas in progress, experimental works and other things that would otherwise never been seen. A lot of my work now has developed in some small way at least from the internet, through showcasing elements or ideas online, sometimes a tweet about an interesting material I'm thinking about using or sometimes even a few draft images.
I'm also a big fan of the ability for artists from all over the world to connect, network and exchange ideas through the internet. I don't think the internet will replace galleries and the physical space that art occupies but I'm excited by the possibilities of a timeless, placeless, almost totally free space and how that can be utilised to fill the gaps in accessibility in the physical world.
How do you go about developing new projects?
I think about what atmosphere I want to create, how I can go about doing that visually and then the number of works, order and so on comes after I make tonnes of works, of which only a small number usually make it into the project.
How does your lived experience influence your work?
I tend to do everything in my work, even things that I'm not necessarily great at, often due to small budgets. That's influenced my work in a positive way and I hope to maintain that spirit throughout my career. In a deeper sense, my lived experience as a South Sudanese woman in Melbourne influences the choice of models that I gravitate to. In telling my small personal stories publicly, I almost exclusively photograph black people and am interested in the historical relationship we have to photography and image making.
Who or what inspires you?
Most of my work has come about from stewing on ideas that I had while studying at uni and playing around with photography and video in an experimental way.
I'm really inspired by other young artists. I get a lot of inspiration from the internet as well as smaller galleries around Melbourne. I'm also really interested in cultural and colonial archives and spend a lot of time looking through photos and videos from the 19th and 20th century online. My work has been directly influenced by archives – conceptually and visually – and I think that thread will continue for some time.
What books are you currently reading?
I'm reading In the Dream House by Carmen Maria Machado and slowly working through Kindred by Octavia E. Butler.
What is your favourite social media account?
What music are you listening to?
Album – Songs of Praise by African Head Charge
Song – Mama Saturn by Tanerelle
If the work you are presenting at PHOTO 2020 was a song, what would it be?
How are you spending your time with the current social distancing restrictions?
I've started riding the Merri Creek trail and cooking delicious food for the first time in a long time. I'm working on video works that I put aside for the last few years and catching up on reading!
How do you hope our creative community will overcome this unique challenge?
I hope this inspires the community to consider ways to be more accessible well into the future. It's great to see that the accommodations are available and I look forward to seeing these measures become a norm in the arts.
Do you have any daily rituals or unique customs?
I've been walking regularly. It's been really helpful to have a calming, steady daily ritual.
Do you have any unrealised projects you would like to work on?
I want to work on large scale video works using masses of bodies. I would like to take a group of 50+ people into the Dandenong ranges to make a work about our physical relationship to the space we occupy and how our bodies have been trained to sit and exist.
What advice would you give to your 15 year old self?
My 15 year old self was an emo-ish, Hillsong-attending, Sims obsessed nerd with a love for Henry Miller and Nick Cave. I was terrified of being wrong so I never put effort into anything and just coasted by. I would tell 15 year old Atong to be ok with failing, because aside from being inevitable, it's also such an incredible tool!