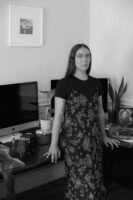 Q&A with Hayley Millar-Baker
30.4.20
PHOTO 2021 artist and State Library Victoria photography fellow Hayley Millar-Baker shares insights into her art practice, record collection, and obsession with Patti Smith, Kim Gordon and Studio 54.
What started your relationship with photography?
My relationship with photography started as a kid I guess. For birthdays and Christmases I was always writing 'camera' on my Santa list and I think I got my first legit film camera (non-disposable) when I was in Grade 6 for my school camp. Since then I've always had cameras. They progressed from point and shoot film, to point and shoot digital, to basic DSLR, and so on. So I've always been around and had cameras.
Come to think of it, even before I had my own camera, I was around cameras. My mum was a journalist for the local newspaper and very often, I had to be the subject in something she was writing, so the newspaper photographers were constantly in and out of my life pre-primary school. But anyway, professionally speaking, I inherited my grandfather's archive of slides and negatives mid-2016 and that's what kicked off my photography practice. For me, photography made sense to be my chosen medium; it is assumed to be truthful, it's trustworthy because it's a snapshot of time, and I can use and manipulate it to tell the stories I need to tell and have them 'legitimised' or believed in a way that I need them to be taken in.
What is your motivation for making art?
I really don't know what motivates my art making. I live and breathe art? There's not really any other way to put it. I'm an artist, I have always considered myself to be even when I was a child, there's nothing else I wanted to be, and I can never imagine myself not being an artist.
How has your practice changed over time?
I trained in painting for almost a decade, and as much as I LOVE paint, and painters, and paintings, the medium just wasn't cutting it in terms of what I wanted to convey and the believability I needed my work to have. But while I no longer paint, I still construct my image-making in the same way that I constructed my paintings. All the elements of building a painting are used in my photographic works.
In this post-internet age, how do you see the viewer in relation to your artwork?
I am a very traditional type of art person (if there is such a thing!) I grew up striving to be in the white cube gallery and museum spaces. I wanted to be next to Matisse, Monet, and Warhol. And that hasn't changed for me at all. I primarily use the internet to share previews of where and what my work is currently doing, but that's generally as far as I go with it. My work is made to be viewed in person, but I do understand that people can't always be there, so I do what I can to share on socials.
How do you go about planning for new projects?
Planning new projects and developing the planning is quite a lengthy project for me. For example, the new body of work I'm currently making to be premiered in 2021, the preliminary research began in June 2019 and continued until I was ready to start collecting the shots I needed to begin constructing the works. When choosing what to make work about, I generally look at what I'm ready to take on, what's important for viewers as well as what's important for me, and where I am at in my life. What I start with evolves drastically by the time it's brought into the world. It's an interesting process.
How does your lived experience influence your work?
Previously in practice I've tried to strictly be the narrator – a mediator between the truth of family members and story-telling. For the new work I am making, I've taken a step forward and am basing the narrative on my own experiences. All in all, whether it's my own lived experiences, or my mum's, or great-great-great grandmother's; someone's experience always influences my work.
Who or what inspires you?
I feel like who I am and what I love does not transpire into my practice at all haha! I love 70's, 80's, 90's Rock 'n' Roll, Punk, art scene and lifestyle. I'm obsessed with Patti Smith and Kim Gordon, The Factory and Robert Mapplethorpe, David Bowie and Studio 54. That's what fires me up and motivates me to create, but the stuff I create couldn't be further from my inspirations haha!
What books are you currently reading?
My current book pile to read/reread:
Girl in a Band by Kim Gordon
M Train by Patti Smith
Smoke Gets in Your Eyes by Caitlin Doughty
The Cockroach by Ian McEwan
What is your favourite website or social media account?
Ooooof if I can spruik a couple of my favourite 'Australian' artists I'd say you need to follow: Phuong Ngo, Jason Phu, Hoda Afshar, Caroline Garcia, and Madison Bycroft. Incredible artists in their own rights!
What music are you listening to?
Anything from my record stack: Florence and the Machine, Lana Del Ray, The Cure, The Rolling Stones, Led Zeppelin, David Bowie, Audioslave.
If the work you are presenting at PHOTO 2020 was a song, what would it be?
I love this question! Okay, it'd be something slow and emotional like Florence and the Machine's 'Never Let Me Go'.
How are you spending your time with the current social distancing restrictions?
I'll be real, I haven't done anything at all. I have a toddler and my husband is still working full-time in commercial construction so it's just me and Maeve at home together. We were both struggling quite a lot at the start because we are always on the road from destination to destination, so the adjustment to hang at home 24/7 was rough.
I'm currently working on the new body of work, slowly, because time is on my side so there is no need to rush for a deadline which is actually really great and something I haven't had before. So we are just taking it slow, day by day.
How do you hope our creative community will overcome this unique challenge?
I don't think the creative community will have any issues overcoming this insanely unique experience. I just hope when we do come out of this, that the government is willing to support us financially with opportunities to kickstart the engines again.
Do you have any daily rituals or unique customs?
I don't. If I tried to make some I just know that I would either forget or become too lazy to continue after a few days.
Do you have any unrealised projects you would like to work on?
There were a couple of projects I was meant to do this year, but with everything happening they've been postponed. I can't really elaborate on what they were, but it was going to involve a new medium!!
What advice would you give to your 15 year old self?
Don't waste those two years getting a teaching degree because you aren't going to be a teacher.