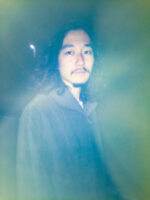 Q&A with Kenta Cobayashi
5.10.20
Following his recent campaign for Virgil Abloh and Louis Vuitton, Japanese artist Kenta Cobayashi will be premiering a new work at PHOTO 2021 in partnership with the Metro Tunnel Creative Program. Here he talks about representing the millennial generation, the importance of community and collaboration in his work, his daily practice of Sonkyo and how he was inspired by Andy Warhol's Factory.
What started your relationship with photography?
The first time I took a picture in my life was on my cellphone in middle school.
My introduction to art came in high school with the Velvet Underground & Nico. When I looked them up, I found out that the producer Andy Warhol was a famous artist who had created an interesting space to hangout called the Factory. I was struggling with a sense of stagnation in my hometown, so I saw Lou Reed's voice and Warhol's work shine through. My friend in senior year at an art prep school told me about an art project, Shibuhouse, where artists share one house in Shibuya for their living and artistic practice. All activities in Shibuhouse were documented by Yuki Ishida, a photographer who lives there. Later on, I lived there and started to take pictures of us.
What is your motivation for making art?
One of my motivations is I want to change my everyday life.
I want to create a more comfortable life before I die. In order to do so, I should not be alone, but need to be involved with others and society. For me, art is the best medium to connect with people.
Another reason is I want to learn more about this world.
There are many things that I came to realize while creating and communicating based on my work. For example, the medium of photography has become a metaphor for the brain's perception of the world. The camera reduces the resolution of this world to make an 'image' that we can handle. However, our brains perceive the world by setting limits to the visible light, audible range, and language, which I describe as 'lowering the resolution'. As I create my work, I am thinking about my own cognition.
How do ideas relating to 'The Truth' factor into your practice?
The Truth is an infinite resolution. It is the world of reality that cannot be divided. When I say truth, what I imagine is an infinite number of pi.
We live in a world where indivisible numbers are born.
We live in a reality where two different world are overlapping each other. One is the world of truth, which is of infinite resolution as I said. The other is the 'world of approximations' where the resolution of that world is reduced to a manageable level. In many cases, we adults act and contend based on the rules of the 'world of approximations'. It is easy to understand if we say that we live in a world of words and numbers. But for children before learning language, they live in the world of truth by touching it.
In this post-internet age, how do you see the viewer in relation to your artwork?
I first became interested in creating art when I was a junior high school student, when I posted my work online. I was very excited by getting two comments from abroad. It was just before the birth of social networking services, and BBS culture was still thriving at the time.
In Japan, many creators were working with each other and sharing their works online community, which is called 2channel and was very popular. Looking back, it was the internet that gave me my first glimpse into the activities of adults other than my parents and teachers who surrounded me. Now that I am an adult, I am very excited to have come to collaborate with fashion house Dunhill via the internet.
The internet is fraught with complications these days, but it can be the first place for children to see adults's activities. I want to show the younger generation that we are actively interacting, creating work, and working through the internet.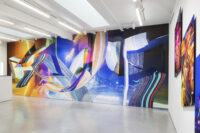 How do you go about developing new projects?
Starting something new always happens in response to the people and environment around you. So I've been thinking since my early twenties about who to work with and what kind of environment to put myself in. In my early twenties I was part of a community based in Shibuya and now I'm part of a community based in Shonan, a bay area in Kanagawa next to Tokyo.
How does your lived experience influence your work?
The year I was born was 1992, just as digital media was beginning to spread into general public. I grew up with the development of computers, video games, cell phones, and the Internet. The older generation appreciates the newness of my work, while my generation gets a sense of nostalgia from it.
Community involvement is also an essential factor in my work. Just as I admired Andy Warhol's Factory when I was in middle school, a group of people who share their living in ways that are not part of their families, schools or workplaces has been and will continue to be an important part of my life. The culture or community and collaboration are what develops my artistic practice.
Who or what inspires you?
I'm based in Shonan now because I have my mentor here. He is a master of the human body, Eastern thought and physical expression, and I am inspired by his way of life and learning from him.
One of the artists in history that I respect is Rammellzee; I want to be an artist who can talk about a grand and beautiful cosmology.
What books are you currently reading?
The books about Yangmingism and the Analects of Confucius, I study with my mentor.
What music are you listening to?
If the work you are presenting at PHOTO 2021 was a song, what would it be?
'Sister Ray' by The Velvet Underground
How are you spending your time with the recent social distancing restrictions? Has this motivated you in a way that you might not have expected?
My work was postponed or cancelled, which gave me more time. I wanted to try something new, so I bought a MIDI Pad to work on music.
Do you have any daily rituals?
I have a practice called Sonkyo, keeping your body in a squatting position. It's not a ritual per se, but a posture form taught by my mentor, a kind of advanced version of Zen. While typical zazen practice seeks to relax, the stance in Sonkyo seeks to shift your weight to your lower abdomen. Then, you realize how your everyday life was immersed in the mind, the brain and in the virtual world. It's a chance to feel, rather than think, how you want to live your life.
Do you have any unrealised projects you would like to work on?
Ever since I was a child, I have been fascinated by laboratories. In the future, I would like to run a laboratory that combines scientific exploration with artistic practice like the underground laboratory at Wakanda in the movie Black Panther.
I think Science needs an aesthetic, because science and technology have invariably strategic forces. Art represents the unconscious aesthetics of the times. Of course, sometimes an intense vision by one artist can create a new aesthetic direction, but I believe most of the time, the artist who best answers the unconscious demands of the times creates the scene. I am part of this situation and have been given the role of an artist representing this digital age and the millennial generation.
Art stands in a position to be very susceptible to science and technology. But it is the aesthetics that act on the conscious and unconscious which determine the direction of scientific development. Once we understand this structure, we gradually realize that there is a larger stream that is almost impossible to contend with. However, if science and art are built into one close community, it should be possible to create a small but separate directional stream that diverges from this larger one.
In other words, there are possibilities in the way we treat science and technology that we are not yet aware of, and in order to discover these possibilities, we need to design a community that takes into account the unconscious impact of aesthetics.
What advice would you give to your 15 year old self?
Take care of your self, study history and go to find your master.