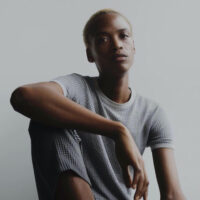 Q&A with Luvuyo Equiano Nyawose
15.4.22
Luvuyo Equiano Nyawose
Hello, please start by telling us something about yourself that is not in your bio.
I'm editing a creative publication/anthology. Through prose, poetry and essay – eleven contributors each offer various perspectives on notions of Blackness, water (and it's multiplicity) and the beach/ocean. While some respond to the series eBhish' others use their lived experiences to critically and creatively engage. Overall, the anthology offers a chorus of voices which unpack notions of Black social life, intimacy and the black beach experience.
Can you explain your artistic processes to us (research, methods, processes, rituals, etc)? Has this changed over time?
My practice as a photographer/filmmaker engages with the public space and public archives. My work as an artist, filmmaker and curator has focused largely on public communion, Black social life and the humanities of the Indian Ocean. Susan Sontag frames this undertaking as "participatory practice". She writes, "to take a photograph is to participate in another person's mortality, vulnerability, mutability…All photographs testify to time's relentless melt" (1977:4). This is evident in my recent (2018 – 2021) body of work eBhish' – an ongoing series – which employs a methodology using my personal experience to describe, analyse and understand cultural experience. It is through my lived experiences that I established an auto-ethnographic approach to photographic documentation.
As an artist/creative, where do you draw inspiration for your work from?
Black social life, popular culture, H(h)istories, A(a)rchives, and contemporary and historical art.
For instance, a photograph of me, taken by my father, wearing bright orange swim shorts ebhish' in 1998 was the genesis of the photographic research eBhish'. From an early age, I have been documenting (and have been documented in) intimate histories and articulations of community from our perspectives.
What has been the most rewarding project you have worked on so far?
eBhish' – Growing up ebhish' laseThekwini, summers were often the highlight of the year. My family and I would often drive to the beach in a minibus taxi or bus to the brim with camp chairs, cooler boxes and treats. As kids, we would sing gleefully, 'eBhish' Durban, ebhish', bhish',bhish', Durban!' This excitement reverberated with crowds of other kids who would splash about the public pools. I have fond memories of a mixture of sea water and chlorine. I'd often swim for hours until uMa noma uGogo would drag me out of the pool.
What the space [beachfront] does for me quite beautifully is to show notions of temporality – through seeing kids I was able to revisit the rich memories of my childhood of summertime in water but also remembered quite vividly being scared of the ocean. I was transported back to the awkward teenage years when you I was uncomfortable in my own body and then later gained confidence through early adulthood. I was able to see tender moments of fatherhood, of mother and grandparent. For me, all of these moments warm me up to the possibilities of the future.
Why is photography an important artform/practice to engage with (both personally and for others)?
To use bell hooks' observation, the camera & photography, to me, was something that "gave to black folks, irrespective of class, a means by which we could participate fully in the production of images… [I]t is essential that any theoretical discussion of the relationship of black life to the visual, to art making, make photography central.
What led you to photography (rather than any other artforms)?
My relationship with photography began at home with personal family albums. On special occasions (umcimbi noma umsebenzi), my family would hire a photographer and videographer to document the moment. As I grew up, I became increasingly curious about image-making and was granted permission to use my parent's point-and-shoot camera, often used to archive imicimbi nemisebenzi. By the time I entered formal schooling, I had been fully immersed in photography at home.
What does the PHOTO 2022 theme 'Being Human' mean to you?
The beachfront eThekwini has a racialised past and contentious present. Through the series I foreground the multiplicity and fluidity of black oceanic presence and black subjectivity, as well as the interrelated meanings of water and the sea as spiritual. The work depicts Black social life, and humanizes moments of tenderness, joy and care – this is part of 'Being Human.' eBhish' is interested in the finer happenings. It is a self-reflexive endeavour; an archive in the making, unfettered by the tropes of representational image making. To quote Nontobeko Ntombela, eBhish' centres "intimacy and embodied knowledge that is enabled through agency, subjectivity and self-articulation… [I]t is not about self-marginalisation but rather an attempt to eradicate totalising interpretations that once serve[d] homogenis[ing]" perceptions of blackness.