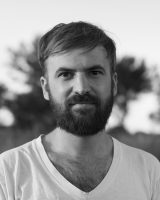 Q&A with Patrick Waterhouse
15.12.20
Patrick Waterhouse is a British artist who explores the shifting nature of our understanding of the past. Through processes that play with narrative representation, his work sheds light on the construction of history and its origins. He is the Editor-in-chief of Colors magazine and his project Ponte City, made in Johannesburg in collaboration with Mikhael Subotzky, was awarded the Deutsche Borse Photography Prize in 2015. His latest project Restricted Images—which will be exhibited at PHOTO 2021—was made with the Warlpiri communities of Yuendemu and Nyiripi over a five-year period. He tells us more about what to expect from his latest collaboration.
Hello Patrick, please start by telling us something about yourself that is not in your bio.
I'm on the severe end of dyslexia which means I get help with reading and writing written text, including answering these questions now, which Jacqui is typing as I speak. This is one of those less obvious examples of collaboration, which is often part of my work, and it happens throughout my working process, both explicitly and behind the scenes. It also means I'm one of the last people on the planet who stills calls people out of the blue, which seems to have gone out of fashion.
What will you be exhibiting at PHOTO 2021?
A project called Restricted Images, which is a collaborative project made with the Warlukurlangu Art Centre, which is in the communities of Yuendumu and Nyirripi in Warlpiri country. The work that we're showing for PHOTO 2021 is one chapter of a body of work which explores representation and agency in photography.
What inspired this project?
I've always been interested in the subjective nature of history and learning about various historical narratives being challenged. I remember as a child in England learning about Sir Francis Drake as a hero, and then finding out about his portrayal in Spanish schoolbooks as a looting pirate, which was a good illustration of how a story changes depending on the position of the storyteller. In England historically there's been a lack of engagement with the uncomfortable aspects of its role in Empire, and in the past this history has been told in a biased way or not told at all. And so, I've been interested in exploring issues which have been brushed under the carpet or have been historically told in a partisan or one-sided way.
So in 2011 when I travelled to the Western Desert for work, I realised that there was a whole rich culture that I'd never been exposed to, which had been hugely affected by British colonial expansion. I started collecting fragments and missing bits of information to revise. After building this archive I returned to Australia and in 2014 started working with the Warlukurlangu Art Centre, and the project developed from there.
How does it relate to the theme for PHOTO 2021: 'The Truth'?
The broader work is looking at the subjective nature of truth and whose version of the truth gets told. History can be presented as a fixed, fact-based thing, but we wanted this project to challenge this notion and show how our understanding of the historical record shifts over time. There's a great quote by the writer Viet Thanh Nguyen which I think speaks to this issue: "All wars are fought twice, the first time on the battlefield, the second time in memory."
Can you tell us about the process of making this work?
The collaboration has involved over 50 different artists and community members of all ages. The work was made at the Warlukurlangu Art Centre over a few years. The centre is at the heart of the community and is open to anybody who wants to paint. Keeping with this philosophy, I worked with anyone who was interested in the project. After a few meetings with the community interest grew. I'd arrived with this idiosyncratic archive of documents, which was what we revised at first, but we then moved onto revising photographs I'd taken within the community.
The collaboration changed from person to person. In general, we would discuss the piece that we were working on before beginning the intervention and process of revision. With the photographs I'd taken I went back to my studio, printed them and came back with this series of prints, initially only working with the person represented but this developed over time, as people wanted to work with images of their children and grandchildren, so it became a more communal process.
What do you hope audiences take from your work?
I hope it'll encourage people to continue to question set notions of history, to ask questions and think about how our understanding of the past is formed. I hope people see it as open-ended and part of an ongoing process of making sense of the complexity of history.