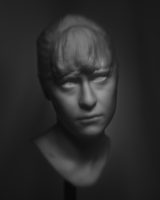 Ramsay Art Prize to feature PHOTO 2021 artists Hoda Afshar and Hayley Millar Baker
26.4.21
Artists Hoda Afshar and Hayley Millar Baker announced as finalists in the Ramsay Art Prize for their PHOTO 2021 commissions. The Prize will be exhibited at the Art Gallery of South Australia from 22 May to 22 August 2021.
We are delighted to share that Hoda Afshar and Hayley Millar Baker have been selected as finalists with their PHOTO 2021 commissions. Open to Australian artists under 40 working in any medium, the Ramsay Art Prize celebrates the next generation of leading Australian artists.
In her PHOTO 2021 commission Agonistes, Tehran-born, Melbourne-based visual artist Hoda Afshar explores the experiences of people who have spoken out. Combining new and old photographic techniques, Afshar creates images that reflect the experiences of whistleblowers who have voiced harms and misconducts being perpetrated in Australian institutions today.
Recipient of the State Library Victoria Photography Fellowship, Hayley Millar Baker's I Will Survive considers how personal and collective memories change over time in their retelling, and the way past experiences continue to flow into-and shape-the present. Bringing together landscape photography and studio self-portraiture, I Will Survive is a playfully dark and defiant series- an offering of enigmatic narratives that tell us how we learn through fear, and grow a voice through survival.
Ramsay Art Prize finalist works are selected by an eminent panel of judges and shown in a major exhibition at the Art Gallery of South Australia. The winning work is judged from the exhibition and is acquired into the Gallery's collection with the winning artist receiving $100,000.