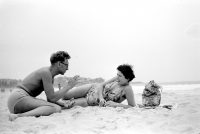 Insight: State Library Victoria's Pictures Collection
27.3.19
PHOTO 2020 is excited to present a new Photography Fellowship in partnership with State Library Victoria, providing an opportunity for an artist to conduct innovative research in response to the Library's photography collection. We spoke with Madeleine Say, the Library's Pictures Collection Manager, to get an insight into why photography is so important for their collection, the subjectivity of the medium and our willingness to accept a photograph as the definitive truth.
Why is photography as a medium important to the State Library?
The aim of the Picture Collection is to record our social history through the work of professional and amateur artists and photographers. Photography is important to our collection as a documentary medium. Our collection includes images of Victorian people, the built environment and historical events, and we estimate that 80 to 90% percent of the collection is in a variety of photographic formats.
Why is the relationship between photography and truth important to investigate?
Photography is often perceived as an objective, and therefore unbiased, medium for documenting and preserving historic moments and world histories, and for visualising and narrating stories.
The choices made by a photographer – such as how the image is composed, how it is framed, and how it may be cropped, edited, or manipulated after it is taken – introduces a subjective perspective into the photograph, and impacts how we receive and understand images. This raises questions about how willingly we accept any one photograph as a reflection of definitive truth.
What sort of works are held in the collection?
The collection covers 19th- and 20th-century photography, from the daguerreotype through to digital media. We collect vintage prints, mass-produced commercial photographs and all types of photographic negatives on glass and film.
The library has digitized many of the photographic items in our collection and these can be seen in our library catalogue.
What are you hoping the outcome will be from the new Photography Fellowship?
The Library's Fellowships program provides artists and researchers with a unique and supportive environment in which to immerse themselves in our collections. We invite recipients to be inspired by, repurpose, transform or imaginatively respond to published or original sources, such as photographs, manuscripts, maps, music, newspapers, oral histories and rare printed material, in any way they choose.