Corben Mudjandi (Mirrarr/AU)
009
1 March 2024 - 26 May 2024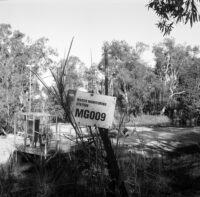 Image: Corben Mudjandi, 009 (Double oh nine), 2023. Courtesy the artist and Marawuddi Arts & Culture, Jabiru.
Defiance and community in the face of destruction and industry.
When
1 March 2024 - 26 May 2024
Venue
860 Ferntree Gully Rd, Wheelers Hill
Tue – Fri, 10am – 5pm
Sat – Sun, 10am – 4pm
Accessibility
Wheelchair access
Price
Free
In 1982, the township of Jabiru was established around a uranium mining site, intended to house the mine's workers—without the consensus of the Traditional Owners.
This exhibition features works by Mirrar Traditional Owner and visual artist Corben Mudjandi. The photographs captures his perspectives on Mirrar Country and his own community, displayed alongside images of the former uranium mining site at Jabiru.
The poetry and beauty of Corben's works stand in contrast with the history concealed behind them. The images he offers address the dichotomy that exists between the impact of modern industries on the environment, and the resilience of Indigenous people in fostering values such as kinship, connection to Country and culture.
Curated by Angela Connor and Agency, in consultation with Marrawuddi Arts & Culture Supported by The Albert and Barbara Tucker Foundation
Curators
Angela Connor

Agency

A catalyst for connection, engagement and impact, Agency is a not-for-profit organisation that celebrates and promotes Indigenous art, culture and people through meaningful programs and ethical partnerships on a local, national and international scale.

Agency was founded in 2020 and is governed and led by a majority Aboriginal and Torres Strait Islander Board, who apply Indigenous principles and knowledge to all aspects of leadership and decision making.

Agency has established and ongoing relationships with over 50 remote Indigenous-owned Art Centres and many Indigenous practitioners across Australia. It works in partnership with museums, public and private galleries, industry professionals and educational institutions to deliver a diversity of projects, both in Australia and internationally. Agency's programs include art residencies, talks, publications, exhibitions, fundraising initiatives and cultural experiences.

Agency is deeply committed to ensuring best practice through Indigenous Cultural and Intellectual Property protocols, working consultatively with Government bodies, peak organisations and peers to streamline the delivery of services and develop sustainable evaluation and assessment practices for all projects.