7 Photographs That Shaped The Future
1 March 2024 - 24 March 2024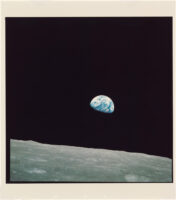 Image: NASA/Bill Anders, Earthrise, 1968.
Visual turning points in human understanding.
When
1 March 2024 - 24 March 2024
Venue
Swanston St, Melbourne
24 hrs
Accessibility
Wheelchair access
Price
Free
Certain images have the capacity to change minds, shape our understanding of a situation or bring about action. These seven photographs are perhaps already familiar. Even if we don't know the exact details, they sit in the popular imagination. Each marks a turning point, whether in the Australian Land Rights Movement, the Environmental Movement, our understanding of a World War, or the way people perceived a humanitarian crisis.
It could be said that history breaks down into images, because they communicate with such immediacy, transcending language and holding stories within them. These photographs are testament to the power of the medium to not only record history, but to shape the future.
Curated by PHOTO Australia Supported by Helen and Michael Gannon