A Bell Rings Across The Valley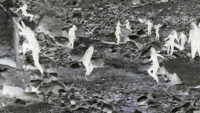 When
12 April 2022 - 26 June 2022
Venue
45 Moreland St, Footscray
Tue – Fri, 9.30am – 5pm
Sat – Sun, 10am – 4pm
Theme
Accessibility
Wheelchair access
Price
Free
A bell rings out across the valley. A deep resonance that begins in the Himalayas and echoes out across the Bay of Bengal, growing in vibration and meaning as it sings out. Complex and tender, a many-headed figure forms, both of alarm and joy.
Photography's roots here can be traced to empire, anthropology and journalism. The region takes these roots and shapeshifts these understandings and new stories form. What does Contemporary Photography look like in South Asia? What stories are being told?
Five artists have been invited from across South Asia and its diaspora to speak of complex experiences of identity, heritage and change.
Curator
Shivanjani Lal (AU / FIJI)

Shivanjani Lal is a Fijian-Australian artist and curator. Her work explores personal grief to account for ancestral loss. Exploring narratives of indenture and migratory histories from the Indian and Pacific oceans, works uses story-telling, objects and video to account for lost histories and cede futures for healing. She is the recipient of the 2019 Create New South Wales Visual Arts Emerging Fellowship, was a 2020 Studio artist at Parramatta Artists Studios and the 2020 Georges Mora Fellow. Lal's work has been shown and curated work in Australia, New Zealand, India, United Kingdom, Barbados and France.